Caring For Your Car In Summer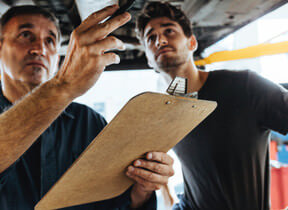 Car care is a year round routine and conducting preventive maintenance is important if you want to avoid costly breakdowns and large repair bills. The heat, sun and extra travel that comes with the holidays and road trips that often happen in summer can place a unique set of strains on your car. In this part we'll be looking at what steps you can take to prevent those strains from potentially damaging your vehicle.
Look After Your Wipers
Just because it isn't raining doesn't mean you should forget about your wipers. You'll most likely not be using them that much over the summer months, so now is a good time to invest in some wiper covers. The covers will stop the wind, heat and direct sunlight from damaging your wipers, keeping the blades in good working order so you won't have to replace them just when you'll be starting to need them again in the fall.
Top Up Your Coolant
We all need a little extra water to comfortably get through the summer months and your car is no different. Your coolant system is the only thing that stands between you and a potentially engine ruining overheat, so you'll want to make the effort to keep it in peak condition. Make sure your radiator fluid is topped off regularly and that you check the entire systems for signs of wear or damage to hoses and connection points at least once a week. If you are thinking of taking a road trip or an especially long journey then it is worth carrying water or antifreeze with you, just it case it starts to run low while you are on the road.
Check Your Brakes
Winter can be especially hard on your brakes as you'll be using them to maintain control and avoid aquaplaning. When summer rolls around it's a good idea to have your entire brake assembly checked for damage or signs of wear, and replace any worn out parts.
Checking that your brakes are in good condition is a complicated process and one that it is vitally important is done correctly. If you are in any way unsure of how to check or replace your brake assembly then it is best to have a professional do it for you, or at least advise you on it should be done.
Check Your Fluid Levels
Coolant isn't the only fluid that it is important to check on a regular basis. Brake fluid, oil and power steering fluids are all vital parts of your car and should be checked on a regular basis. This is particularly true in the hottest summer months when the heat can make these fluids evaporate at a faster rate. You should be checking your fluid levels on a regular basis and making sure to top them off if they have become low. As with antifreeze, it's best to take replacement fluid with you on long trips, that way, if you spring a leak, you'll be able to top the fluid up enough to get to the nearest service station and avoid your engine seizing up.
Check Your Fan Belt
If you notice that your fan belt looks loose, has any obvious damage or that it is making a loud squealing sound then the time has come to replace it. The heat of the summer can be harsh on worn belts, so starting out the hottest months with a new one is the best way to avoid a snapped belt.
AC CARE
The AC might be the most important part of your car in the middle of a Las Vegas summer and not maintaining it properly can leave you stuck baking in a hot vehicle for long periods of time. The AC in most moderns cars in computer controlled and maintaining it is normally a job for a professional. A check up is normally less expensive that fixing a fault and you'll be glad you spent the time and money when you are stucking traffic under the blazing Nevada sun.
Clean Out Your Filters
The rain and mud of winter will have contributed to clogging up your car's filters and, without the airflow they provides, your car is at a greater risk of overheating. Check your drainage points and filters for clogging debris and clean as necessary.
Start Your Driving Adventure Today!
Northwest Driving School and Traffic School provides the Las Vegas community with live driving and traffic classes taught by seasoned instructors. All of our driving instructors have passed background checks, each automobile is DMV safety-approved and every member of the Northwest family is committed to providing excellent drivers ed and behind the wheel instruction.
At Northwest, you can expect to find outstanding classes, both on campus and behind the wheel, that are engaging, fact-filled, entertaining and geared toward success. We make no bones about it, we believe that Northwest provides the best driving lessons in Las Vegas, no matter your age or background. We are proud of the fact that 98% of our students pass their test on the first try. Call us at (702) 403-1592 to start your driving adventure with one of our expert instructors.
Written by:
Rich Heinrich
Master Instructor, Emeritus