Defensive Driving Courses: What's Included?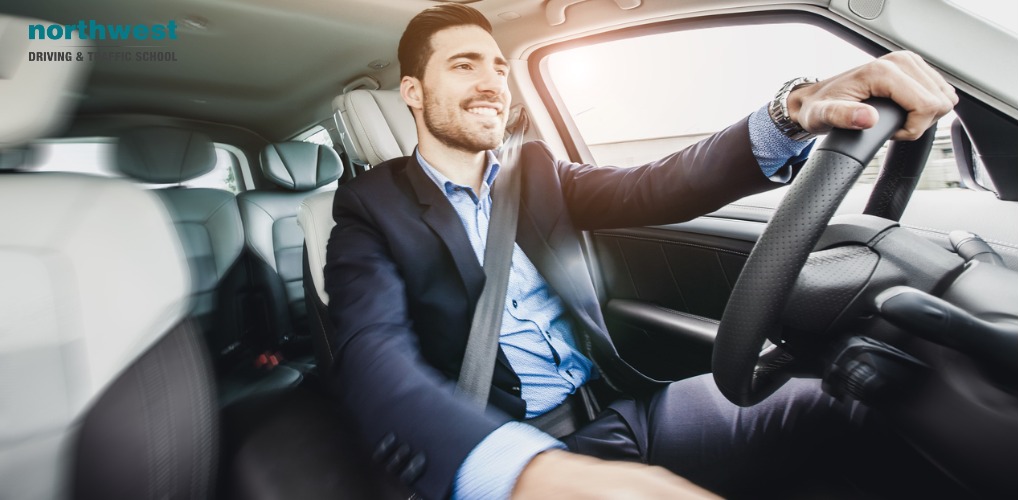 Traditionally, defensive driving is considered to be a series of strategies that can be taught to motorists to help them overcome the most common driving hazards.

Defensive driving classes teach those motorists how to react in situations that might not be fully covered in standard driving lessons, such as what to do in traffic collisions and how to react to a drunk driver.
In this article, we'll be looking at what hazards defensive driving can help combat and what a standard defensive driving course covers.
What Are the Benefits of Defensive Driving
The most obvious benefit of learning defensive driving strategies is that they equip you with skills to better handle the dangers of the road, mostly those caused by other drivers.
However, there are other benefits associated with taking a defensive driving course. Depending on which state you are in, completing a properly accredited defensive driving course can result in a reduction in your insurance rates of up to 10% for a period of three to five years.
What's Included in a Defensive Driving Course
The exact content of a defensive driving course will vary depending on the instructor and the state in which you are taking the course.
Course completion times vary from four to six hours and, in some states, students have can take their defensive driving courses online or even by watching a videotape or DVD. Other states only allow students to take defensive driving courses in a classroom setting.
While the exact nature of a particular course might vary, most defensive driving classes contain widely similar topics.
Traffic Collisions
Each year in the US, traffic collisions account for approximately 41,000 deaths and 3,236,000 injuries. The most common causes of a fatal car crash are being over the alcohol limit, accounting for 38% of all cases, and speeding, which accounted for another 30% of all cases.
Defensive driving courses look to reduce the number of fatal collisions by educating students on how to exercise proper caution when driving and how to use good judgment and awareness when on the road.
The ability to recognize potential hazards is key to avoiding crashes and most defensive driving courses teach a range of crash prevention techniques, including:
Scanning the roadway and adapting to surroundings

Employing the two-second rule for following distances

Knowing your vehicle's stopping distance

Being aware of reaction distance

Environment hazards

Vehicle emergencies

Sharing the road

Passing and necessary clear distance

Right of way

Speed adjustments and railroad crossings
Road Rage
 The American Automobile Association (AAA) has linked more than 12,500 injuries to driver violence, out of 10,000 car accidents since 2007.
Defensive driving courses focus on how the driver can overcome the usual negative psychological factors associated with driving, such as stress, fatigue, emotional distress, and rage.
Being able to recognize and control those negative psychological factors allows the driver to stay in control during stressful traffic situations.
Dealing With Drunk Drivers
Thousands of Americans drive every year under the influence of drugs or alcohol, resulting in nearly 16,000 deaths annually. 
Most defensive driving courses will have a section detailing the specific effect of common drugs on the body and how your perceptions, motor skills, judgment, and reactions are impaired when you are under the influence.
They also cover the legal ramifications of being arrested for driving under the influence and what actions you can take if you suspect another driver is inebriated.
State Traffic Laws
Most defensive driving courses will also cover specific state traffic laws, such as the ramifications of speeding, getting a DUI, which safety equipment you are required to have in your car, laws on the use of mobile phones, and seat belt laws.
Expert Training
The Northwest Driving School and Traffic School provides the Las Vegas community with live driving and traffic classes taught by seasoned instructors. All of our driving instructors have passed background checks, each automobile is DMV safety-approved and every member of the Northwest family is committed to providing excellent drivers ed and behind the wheel instruction.

At Northwest, you can expect to find outstanding classes, both on campus and behind the wheel, that are engaging, fact-filled, entertaining and geared toward success. We make no bones about it, we believe that Northwest provides the best driving lessons in Las Vegas, no matter your age or background. We are proud of the fact that 98% of our students pass their test on the first try. Call us at (702) 403-1592 to start your driving adventure with one of our expert instructors.
Written by:
Rich Heinrich
Master Instructor, Emeritus