How to Get Over Those Driving Test Nerves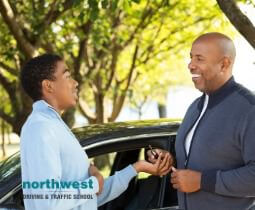 We all suffer from a few butterflies in the stomach from time to time; however, a driving test is one of those times when your nerves are going to be dialed up to the maximum. It's perfectly understandable, most young drivers have a lot riding on their test.
So, if you are feeling nervous about your driving test, here are a few helpful tips on how to stay calm and stop your driving test nerves jeopardizing your chances of passing that all-important test
Practice Makes Perfect
This may seem like an obvious tip, but the more you are in your car and driving, rehearsing and practicing your   and gaining experience, the less likely you are to make a mistake when ti comes to your test
If there is a particular maneuver or area of driving you are unsure of, the best thing you can do is bring it up with your instructor so they can go over it with you. The practice doesn't have to stop with your lessons either. You could also head out in your car with a family member or friend to help practice, just try not to pick up any bad habits from the experienced driver in the seat next to you.
Eat Right
Your diet can have a huge effect on your stress levels and controlling your diet and eating the right foods that can radically reduce your anxiety. Zinc is a key part of maintaining a balanced mood and will also keep hunger at bay during your test, so snacking on zinc rich almonds is always a good idea.
Porridge is a filled with important slow-release carbs and you can also add blueberries. are filled with antioxidants that are said to be extremely beneficial for relieving stress.
Not only are bananas are great for stopping hunger pangs, but they also contain a natural source of tryptophan, a chemical which the human body converts into serotonin, also known as the happy hormone. Dark chocolate is also great for this too.
Drinks are also important for managing your anxiety levels. Tea and coffee might be your go-to morning drink, but they are not recommended before your test because of their high caffeine levels, which can make you jittery and anxious. Try replacing them with a herbal tea, such as calming chamomile, peppermint or barley.
Get Comfortable
Ensuring a good night's sleep, plenty of practice and a healthy breakfast is a great way to start your test day, but, when it comes to the moment when you step into the car, make sure you take time to breathe and create a safe environment around you.
Open your window a little so you have some fresh air, check your seat so that you're uncomfortable and double check your mirrors are in the correct position and you can see all your blind spots. Try to do everything in your own time so that you feel that you are in full control of your space and vehicle. Making sure you are in a comfortable space is a great step to staying calm during your driving test.
Enjoy the Silence
Don't be afraid of the silence. Your personal instructor may have been friendly and talkative during your lessons, guiding you through maneuvers and giving advice. However, when it comes to your test you may find you experience long periods of silence broken only by simple navigation instructions.
Don't freak out, the silence is not an indication that you are doing badly, the test giver is just concentrating and trying not to be a source of distraction for you. Learn not to worry about the silence and instead use it to your advantage. so you can focus your full concentration on the road and your actions.
Don't Tell Everyone
Try not to tell everyone you know that you have a driving test coming up. Instead, try to limit the news to close friends and family. The more people that know you are taking the test, the more anxious you will be because you have created a crowd of people who are interested in the end result. Try to beat those driving test nerves, get your pass, and then tell everyone the good news after.
Don't Sweat the Faults
If you feel you have made a mistake during your test, don't panic! You may feel that every mistake was a huge mistake, but your examiner might well think differently. Put the mistake out of your mind, relax and try not to let it affect your drive ahead.
Expert Training
The Northwest Driving School and Traffic School provides the Las Vegas community with live driving and traffic classes taught by seasoned instructors. All of our driving instructors have passed background checks, each automobile is DMV safety-approved and every member of the Northwest family is committed to providing excellent drivers ed and behind the wheel instruction.
At Northwest, you can expect to find outstanding classes, both on campus and behind the wheel, that are engaging, fact-filled, entertaining and geared toward success. We make no bones about it, we believe that Northwest provides the best driving lessons in Las Vegas, no matter your age or background. We are proud of the fact that 98% of our students pass their test on the first try. Call us at (702) 403-1592 to start your driving adventure with one of our expert instructors.
Written by:
Rich Heinrich
Master Instructor, Emeritus