Sharing The Road With Trucks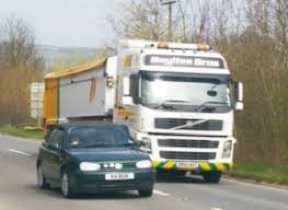 In a recent study conducted by the AAA Foundation for Traffic Safety, it was found that of all truck related car fatalities, 75% were car initiated.
Stay out of the no zones:
Rear: If you can't see the trucks outside mirrors, the driver can't see you.
Sides: If you can't see the drivers face in the mirror, he can't see you.
Here are some tips for sharing the road safely with trucks:
Always pass on the left and don't move back in front of the truck until you can see the whole front of the truck in your rear view mirror.
Trucks will swing left to make a right turn so don't try to pass as you may get sideswiped by the trailer.
On windy days, never drive alongside a truck for longer than you need to pass it.
If stopped on a hill behind a truck, it will roll backwards when it begins to accelerate, so leave yourself extra space as a precaution.
If you're in front of a truck, never stop abruptly as truck can take twice as long as a regular car to stop.
The Risk of Underride/Override:
Underride – Cars that rear-end large trucks are at risk of sliding underneath the truck on impact.
Override – Large trucks that rear-end cars are at risk of driving over top of the car.
Both scenarios are very grim, and extra precautions are necessary to avoid these scenarios from happening.
Author: Rich Heinrich
Master Instructor, Emeritus