Top 5 Car Cleaning Tips for New Car Owners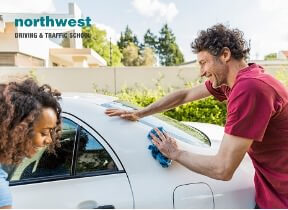 Getting your first car is an exciting moment and it is unsurprising that most new car owners go to great lengths to keep their new vehicle in pristine condition. Heading out to the car wash every day, however, might be little expensive for most first-time car owners, so here are our top five cost-effective cleaning tips for your new car.
Use Your Painting Skills
This might sound odd, but one of the best ways to tackle the dust that gets caught up in the hard to reach spaces in your car, like all those air vents and console buttons that a duster just can't reach, is to use a paintbrush.
A fine bristle paint brush is ideal for getting into all those hard to reach places and helping to loosen the dust so you can bring in a vacuum cleaner and get rid of it for good. Paint brushes are also soft enough that you can use them to clean dust from exterior vents and mirrors without worrying about scratching your glass or paint finish.
Use Vaseline To Bring The Shine Back
If you want to bring the shine back to your car interior, all you really need is some Vaseline (or any other type of petroleum jelly)! Once you've got rid of the dust using your handy paintbrush simply spread a thin layer of Vaseline over the dashboard and other plastic interior parts, and then use a cloth to polish it off. You'll be amazed at how much difference a few moments of work with an easily obtainable product can make.
Remove Pet Hair With A Wet Rubber Glove
Most pet lovers are entirely happy for their pets to come along on road trips, the only downside to this is that it can leave your car's upholstery is covered in fur. Getting that fur out from hard to reach places with a vacuum cleaner can be difficult.
Surprisingly, The best way to remove pet hair from a car's interior is to dip a plain rubber dishwashing glove into some water and then rub it across the upholstery. The wet rubber will gather all the hair together and the collected fur can then be easily picked off and disposed of.
Use Corn Flour To Get Rid Of Grease Stains
We've all given in to the urge to eat greasy takeaway food in our cars, after all, that's what drive-throughs are for, but if you tasty meal has resulted in grease stains on your upholstery, don't worry! Simply find some corn flour or cornstarch at your local supermarket, apply enough to cover the stain and then leave it for ten minutes. The cornflour will soak up the grease and you'll be able to just wipe it away.
Use Kerosene For A Professional Looking Shine
Everyone wants to keep their car's paint job looking shiny and new, but wax that's specially formulated for use on vehicle paint can be expensive and tiresome to apply. Kerosene is a cheap and easily available alternative that will bring up the shine in your paint just as well. Simply mix one part kerosene with four parts of war and apply to your car. When the mixture drys it will shine up your paint with no extra buffing required.
Expert Training
The Northwest Driving School and Traffic School provides the Las Vegas community with live driving and traffic classes taught by seasoned instructors. All of our driving instructors have passed background checks, each automobile is DMV safety-approved and every member of the Northwest family is committed to providing excellent drivers ed and behind the wheel instruction.
At Northwest, you can expect to find outstanding classes, both on campus and behind the wheel, that are engaging, fact-filled, entertaining and geared toward success. We make no bones about it, we believe that Northwest provides the best driving lessons in Las Vegas, no matter your age or background. We are proud of the fact that 98% of our students pass their test on the first try. Call us at (702) 403-1592 to start your driving adventure with one of our expert instructors.
Written by:
Rich Heinrich
Master Instructor, Emeritus