What To Do If You Are Involved In A Minor Car Accident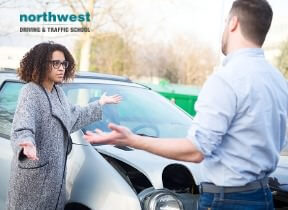 Nearly all drivers will be involved in a minor car accident at some point in their lives. It could be something as simple as backing into another car in a car parking lot or pulling in too close and snapping off someone else's side mirror.
Although there often aren't any injuries during a minor car accident, it's still not a pleasant experience, and it can be difficult to focus and remember how to react in the aftermath. In this article we'll be looking at what to do if you are involved in a minor car accident.
Move your car to the side of the road and away from any other traffic. If there has been any significant damage to any of the cars involved in the accident remember to turn on your hazard lights to warn other drivers of potential debris on the road.
Turn off your engine, shift to park and apply the handbrake. Make sure you are safe to exit your vehicle before you leave it. If you are at the side of a busy freeway and your vehicle is not badly damaged, then it is safer to stay in it.
Check yourself for injuries and check for any injuries on any of your passengers. Certain injuries, such as whiplash and concussions can initially present with limited symptoms which gradually get worse over time. If you or anyone else is experiencing any joint or neck pain, dizziness, nausea or problems breathing then call 911 immediately.
Call the police. If the police have not already been called, do so as soon as possible. You will need to give the police your exact location and request help with reporting a road traffic accident. Many insurance companies rely heavily on police reports from the scene of the accident when filing claims and the lack of one may delay your insurance claim. If there is any evidence of a crime, such as drink driving or speeding, the police will need to asses who is responsible for the accident and take action accordingly.In Nevada, police often will not come to the site of a minor accident, especially one without injuries.  If there are any injuries requiring an ambulance or evidence of a crime, they must be called.  Otherwise, you are on your own and must be diligent in obtaining all pertinent information.
Remember to request the other parties' information. Be as detailed as possible when documenting what happened. Some of the information you will likely need to acquire is as follows:
Full names of drivers and passengers
Full names and numbers of witnesses, if needed
License plate number
Driver's license number
Makes/models of vehicle
Phone numbers
Insurance carrier
Name and badge number of police officer
Police report number
Check your car for damage and take pictures of everything, including the scene itself. It's also a good idea to take photos of the nearby street signs and any damage inflicted on any other parties' car.
Remember to stay calm and follow these basic steps if you find yourself in a minor car accident. Being in an accident is always an unpleasant experience, but by following these guidelines you can help to achieve the best possible outcome from an unfortunate situation.
Expert Training
Northwest Driving School and Traffic School provides the Las Vegas community with live driving and traffic classes taught by seasoned instructors. All of our driving instructors have passed background checks, each automobile is DMV safety-approved and every member of the Northwest family is committed to providing excellent drivers ed and behind the wheel instruction.
At Northwest, you can expect to find outstanding classes, both on campus and behind the wheel, that are engaging, fact-filled, entertaining and geared toward success. We make no bones about it, we believe that Northwest provides the best driving lessons in Las Vegas, no matter your age or background. We are proud of the fact that 98% of our students pass their test on the first try. Call us at (702) 403-1592 to start your driving adventure with one of our expert instructors.
Written by:
Rich Heinrich
Master Instructor, Emeritus