Basic Car Maintenance for New Drivers- Part Two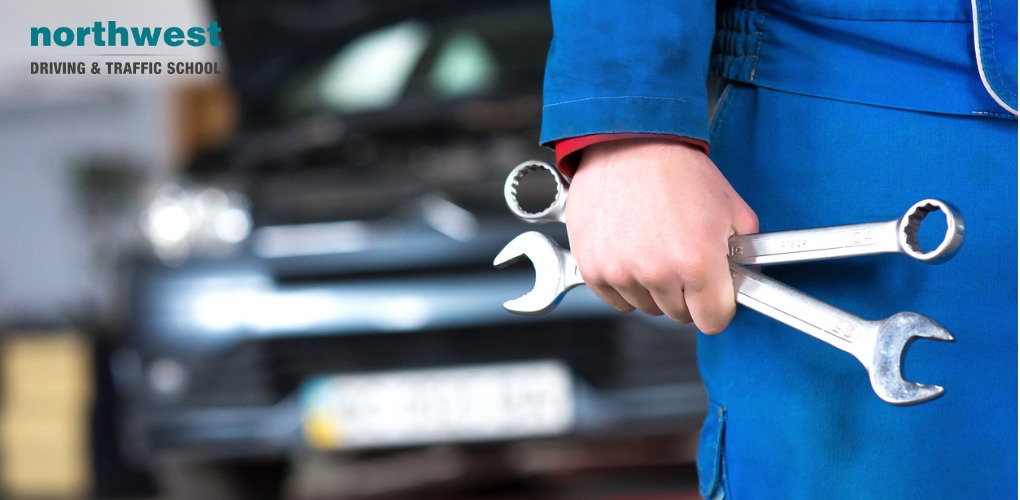 In the first part of this series, we covered some easy steps you could take to keep your car in top working condition and avoid any damaged to your engine caused by low fluid levels. 
In this second part of the article, we'll be looking at how you can keep your brakes maintained, your shock absorbers in good working order, and what a FLOWERY check is.
What Is a FLOWERY Check?
Much like the routine you use to check your mirrors, positioning, and seatbelt when you get into your car, a FLOWERY check is a quick maintenance check that you can use to highlight any faults with your car which could lead to it breaking down.
FLOWERY is an acronym that stands for:
Fuel – Check that you have enough fuel for your journey, or at least to get you to a petrol station.

Lights – Check all lights, indicators, and brake lights are working.

Water – Check the levels of your engine coolant and windscreen washer fluid.

Electrics – Check all electrical features: horn, wipers, etc

Rubber – Check the tires are fit for purpose, and that they are at the correct pressure. Check the wipers blades too.

Yourself – Make sure you are fit to drive, that you aren't tired or under the influence of drink, drugs, or medicines.
Ideally, you should run a FLOWERY check on you car at least once a week and before taking any long journeys. 
Checking Your Brakes
For obvious reasons, most drivers are very interested in making sure their brakes function correctly, which is why it is a good idea to have them checked by a professional every 10,000 miles or at least once a year.
In between those checks, be aware of how the braking system feels. If the brake pedal lacks firmness or goes almost to the floor before engaging, the system should be checked. It could mean that the brake fluid level has gotten low or is leaking.
Shaking or vibration in the pedal or steering wheel may indicate that rotors are in need of replacement or resurfacing. A squealing sound indicates that the pads are wearing thin.
Unless you are very sure of your at-home maintenance skills, any of the above symptoms are a great reason to talk to your local mechanic. 
Maintaining Brake Fluid Levels
Brake fluid is what makes your brakes work. When you push down on the brake pedal, it uses hydraulic pressure to activate the braking unit on each wheel. If you car doesn't have sufficient braking fluid, your brakes won't work.
To check and change your brake fluid levels, follow these steps:
locate the brake fluid reservoir by checking your car's user manual. If the fluid is below the 'MIN' level add brake fluid up to the 'MAX' line.

If you find yourself adding brake fluid frequently then a professional mechanic should check the braking system because the system may have developed a leak.

Brake fluid is very toxic. Keep it away from hands and eyes, and avoid spilling it on the ground. Dispose of empty containers carefully. Be especially careful not to spill brake fluid on your car's paint.

Never allow water to get into the braking system.
Learn to Drive in Nevada Today!
The Northwest Driving School and Traffic School provides the Las Vegas community with live driving and traffic classes taught by seasoned instructors. All of our driving instructors have passed background checks. Each automobile is DMV safety-approved, and every member of the Northwest family is committed to providing excellent drivers ed and behind the wheel instruction.

At Northwest, you can expect to find outstanding classes, both on campus and behind the wheel, that are engaging, fact-filled, entertaining, and geared toward success. 
We make no bones about it, we believe that Northwest provides the best driving lessons in Las Vegas, no matter your age or background. We are proud of the fact that 98% of our students pass their test on the first try. Call us at (702) 403-1592 to start your driving adventure with one of our expert instructors.
Written by:
Rich Heinrich
Master Instructor, Emeritus