5 Key Questions To Ask Before Buying A Used Car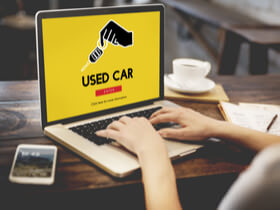 There's no doubt about it, cars are expensive. So it's no wonder that many first time drivers decide to buy a used car. Most used cars are perfectly roadworthy, ideal for a recently qualified driver and, most importantly, you can normally find one that is within your budget. The downside of buying a used car is that you don't get the guarantee of quality that you would get from a new car bought from a showroom. If you are thinking about buying a used car, we've put together 5 key questions that it is important you ask before handing over your hard earned money.
Key Questions To Ask
How many owners has it had? – It's amazing how many used cars are advertised as having "one careful lady owner." Before buying a used car, check with the seller to see how many owners it has had, with the ideal number being no more than three. If what the seller tells you is radically different from what it says in the car's logbook or, even worse, if the car has no log book, you may want to look elsewhere.
Has it ever been in an accident? – Anyone selling a car is obliged by law to declare if it has been in an accident, that they know of, when asked. If you have any suspicions that the car you are thinking of buying has been in an accident, you can always check with your local Department for Motor Vehicles. Bear in mind that there is a small fee for conducting such a check.
Can I take it for a test drive? – Most used car sellers, particular those that operate used car businesses, will be entirely fine with you taking a test drive in the car you are thinking of buying, although you may need to give them your details or have the salesman accompany you when you do it. It is always advisable to take a used car you are thinking about buying out on a test drive. If the seller point blank refuses to let you test drive the car, it's time to walk away.
What is your budget? – When you are thinking of buying a used car, set yourself a budget in advance and stick to it. It can be easy to find a car you fall in love with and then overspend on it. Make sure you set yourself a firm limit and try to resist the temptation to go over it.
What is the price? – Once you have your budget in place you can get down to the business of negotiating a price. Buying a used car normally involves some amount of haggling. If you're not comfortable with the idea of haggling over price, it might be an idea to bring a friend who is.
The Best Way To Learn To Drive In Nevada
Northwest Driving and Traffic School provides the Las Vegas community with Driver's Ed classes, behind the wheel live driving and traffic classes taught by seasoned instructors. All of our driving instructors have passed background checks, each of our automobiles is DMV safety-approved and every member of the Northwest family is committed to providing excellent drivers ed and behind the wheel instruction.
At Northwest, you can expect to find outstanding classes, both on campus and behind the wheel, that are engaging, fact-filled, entertaining and geared toward success. We make no bones about it, we believe Northwest provides the best driving lessons in Las Vegas, no matter your age or background. We are proud of the fact that 98% of our students pass their DMV drive test on the first try. Call us at (702) 403-1592 to start your driving adventure with one of our expert instructors.
Written by:
Rich Heinrich
Master Instructor, Emeritus