How To Reduce Your Car's Fuel Consumption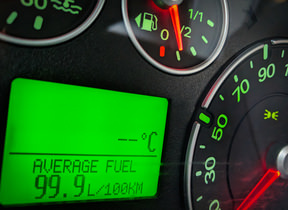 One of the few things you can be certain of in this world is that fuel prices will continue to rise. If you are lucky enough to have brand new fuel-efficient car or a hybrid, you might be spared the worst of them, but if you're stuck with a second hand gas-guzzler here are a few tips on how to cut down on your car's fuel consumption.
Cutting Your Fuel Costs
Cut down on the clutter If your trunk is full of old sports gear, spare parts or other rarely used items, then you are paying to carry them around for no reason. If you are looking to save at the fuel pumps, then it is a good idea to make your car as light as possible, which means clearing out your trunk and only carrying exactly what you need to have with you.
Turn off your engine This might seem overly simplistic, but it is always tempting to leave your engine running when you're on a quick trip to the shops or if you are stuck in traffic. Turning your engine off when it's not needed won't lead to massive savings straight away, but over time all those little savings will add up.
Don't be heavy footed Over revving your engine burns extra fuel, stresses your engine, and usually doesn't get you where you are going any faster. Smooth acceleration and deceleration is better driving practice and will save you fuel in the long run.
Keep your tire pressure up Regularly checking your tire pressure is part of properly maintaining your car. Tires that are under their optimum pressure can also drag, causing your engine to work harder and costing you extra fuel.
Don't overfill your tank It might be counter intuitive, but adding extra fuel to your car might cost you fuel. When it comes time to top up, you don't always need to completely fill your tank. Filling your tank up to its fullest can significantly add to the weight of your car, which means you'll need to burn more fuel to pick up speed.
Learning From The Best
Northwest Driving and Traffic School provides the Las Vegas community with Driver's Ed classes, behind the wheel live driving and traffic classes taught by seasoned instructors. All of our driving instructors have passed background checks, each of our automobiles is DMV safety-approved and every member of the Northwest family is committed to providing excellent drivers ed and behind the wheel instruction.
At Northwest, you can expect to find outstanding classes, both on campus and behind the wheel, that are engaging, fact-filled, entertaining and geared toward success. We make no bones about it, we believe Northwest provides the best driving lessons in Las Vegas, no matter your age or background. We are proud of the fact that 98% of our students pass their DMV drive test on the first try. Call us at (702) 403-1592 to start your driving adventure with one of our expert instructors.
Written by:
Rich Heinrich
Master Instructor, Emeritus