Dealing With Hazards for New Drivers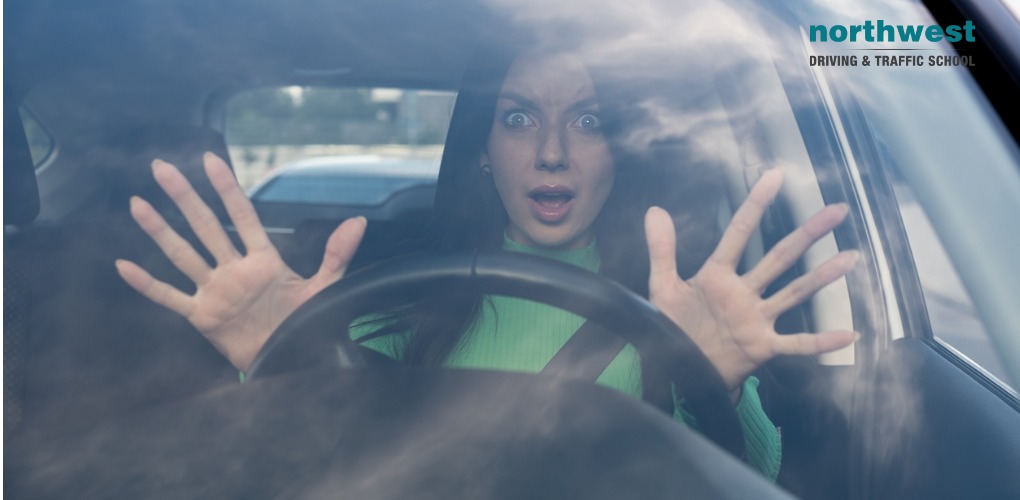 Part of becoming a new driver is learning how to deal with the common hazards of the road. Be it vehicles, pedestrians, cyclist or other distractions, you will need to know how to deal with sudden and dangerous situations.
In this article, we will be discussing awareness and what principles you can keep in mind to help you be as safe as possible on the road.
Focus on the Road
The first and most important step to assessing and avoiding road hazards is to remain focussed on the road and not distracted by anything inside the car. For example, It is illegal to use a hand-held mobile phone or other devices while driving unless it is to call 911 in the event of an emergency.
You should also avoid changing stations on the radio, adjusting the heating, or any other action that takes your focus away from the road. If you do need to adjust something non-critical on your dashboard, ask your passenger to do it, or pull over to the side of the road to make the adjustments.
Planning Your Route
A great way to avoid hazards on the road is to anticipate them, which is why it makes good sense to plan your route in advance. While satellite navigation systems are excellent, they are not a replacement for 10 minutes of planning that would allow you to look for roadworks, traffic accidents, adverse weather conditions and other issues that could represent a hazard on the road.
Remaining Alert and In Charge
One of the primary causes of accidents is fatigue or tiredness. This can significantly reduce your reaction times and lead to you representing a danger to other road users, putting you at risk of losing concentration or even falling asleep at the wheel.
If you are tired, don't drive or if you are on a long journey and feel yourself becoming tired, then find somewhere to stop and take a short break.
In a similar vein, overt aggression while driving makes you a hazard to those around you. Being aggressive does not make you a better driver, it just puts you and others at risk. Remain calm and collected while driving, don't react aggressively to other drivers and, should you encounter someone who is aggressive and confrontational, try not to engage them, especially if you are still driving.
Of course one of the best ways to be relaxed and self-confident in dealing with any hazards on the roads is to have an outstanding driving instructor.
Expert Training
The Northwest Driving School and Traffic School provide the Las Vegas community with live driving and traffic classes taught by seasoned instructors. All of our driving instructors have passed background checks, each automobile is DMV safety-approved and every member of the Northwest family is committed to providing excellent drivers ed and behind the wheel instruction.
At Northwest, you can expect to find outstanding classes, both on campus and behind the wheel, that are engaging, fact-filled, entertaining and geared toward success. We make no bones about it, we believe that Northwest provides the best driving lessons in Las Vegas, no matter your age or background. We are proud of the fact that 98% of our students pass their test on the first try. Call us at (702) 403-1592 to start your driving adventure with one of our expert instructors.
Written by:
Rich Heinrich
Master Instructor, Emeritus