How To Get Your Car Unstuck From the Mud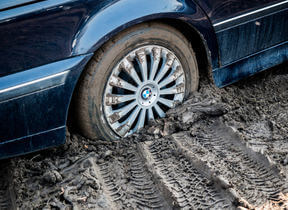 Getting a car stuck in the mud is something that every car owner has to go through at one point or another. It might be a friend's muddy driveway, a badly maintained country road or an overflow car park at your favorite festive that looks suspiciously like it spends the rest of the year being a cow field. Not matter where it is, every driver eventually ends up spinning their wheels in the mud. To help you out when you get bogged down, we've listed a few handy tricks for getting your car unstuck from the mud.
Getting Unstuck From The Mud
Pack your kitty litter – This might sound like odd advice, but cat litter is an excellent way to give your wheels enough grip to get free of the mud. One of the reasons that cars get stuck in mud is that the water content of the mud causes the wheels to spin, rather than grip. Cat litter both provides extra grip and is absorbent, soaking up the extra water. So if you are off into the deep backwoods or it's festival season, keeping a small bag of cat litter in your car can save you a lot of time and effort if you find yourself stuck.
Use what is at hand – If you do get caught in the mud, and you don't have your trusty bag of cat litter to hand, you'll have to use the messy option of just using whatever you can find on the ground. The aim is to build up enough material under you wheels to give you the friction required to drive forward out of the mud. Wooden planks are ideal for this, but since they are not always available, you might find yourself using sticks, leaves, or whatever debris you can find. Dig a hole under your wheel and pack the debris into that hole, if you are luck, that will give you just enough friction for your car to drive out of the mud.
Call a friend – One of the easiest ways to get your car out of the mud is to be towed out. This does, however, come with some caveats. They person towing you out should ideally be using an 4×4, or some other all terrain vehicle, or they run the risk of getting stuck themselves. Towing can also cause damage to both cars, which is something to bear in mind.
Admit defeat –There are times when nothing you can do is going to get your car free of the mud. At those times it's best to admit defeat and call roadside assistance. You may be waiting for them for some time, and it might be a little embarrassing when they turn up, but they will get you free of the mud.
Taking Your First Steps Towards Gaining Your License
Northwest Driving and Traffic School provides the Las Vegas community with Driver's Ed classes, behind the wheel live driving and traffic classes taught by seasoned instructors. All of our driving instructors have passed background checks, each of our automobiles is DMV safety-approved and every member of the Northwest family is committed to providing excellent drivers ed and behind the wheel instruction.
At Northwest, you can expect to find outstanding classes, both on campus and behind the wheel, that are engaging, fact-filled, entertaining and geared toward success. We make no bones about it, we believe Northwest provides the best driving lessons in Las Vegas, no matter your age or background. We are proud of the fact that 98% of our students pass their DMV drive test on the first try. Call us at (702) 403-1592 to start your driving adventure with one of our expert instructors.
Written by:
Rich Heinrich
Master Instructor, Emeritus