How Long Does It Take For Alcohol To Leave Your System?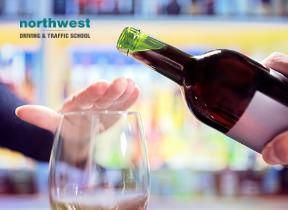 Every day, 29 people in the United States die in motor vehicle crashes that involve a driver who is driving under the influence of alcohol. This adds up to one death every 50 minutes and the annual cost of alcohol-related crashes totals more than $44 billion.
Alcohol-related road traffic accidents account for more than 28% of all traffic-related deaths in the United States and, in 2016, more than 1 million drivers were arrested for driving under the influence of alcohol or narcotics.
Driving under the influence is also statistically more deadly for younger drivers because, all levels of blood alcohol concentration (BAC), the risk of being involved in a crash is greater for young people than for older people.
Among drivers with BAC levels of 0.08% or higher involved in fatal crashes in 2016, nearly three in 10 were between 25 and 34 years of age (27%). The next two largest groups were ages 21 to 24 (26%) and 35 to 44 (22%).
One of the main issues with drink driving is that drivers are not aware of how long it takes for alcohol to be processed in the body, leading many to drive the morning after drinking without realizing they are still too intoxicated to drive.
What Are the Effects of Alcohol on Your Ability to Drive?
.02%

About 2 alcoholic drinks**

●      Some loss of judgment

●      Relaxation

●      Slight body warmth

●      Altered mood

●      Decline in visual functions (rapid tracking of a moving target)

●      Decline in ability to perform two tasks at the same time (divided attention)

.05%

About 3 alcoholic drinks**

●      Exaggerated behavior

●      May have loss of small-muscle control (e.g., focusing your eyes)

●      Impaired judgment

●      Usually good feeling

●      Lowered alertness

●      Release of inhibition

●      Reduced coordination

●      Reduced ability to track moving objects

●      Difficulty steering

●      Reduced response to emergency driving situations

.08%

About 4 alcoholic drinks**

●      Muscle coordination becomes poor (e.g., balance, speech, vision, reaction time, and hearing)

●      Harder to detect danger

●      Judgment, self-control, reasoning, and memory are impaired

●      Concentration

●      Short-term memory loss

●      Speed control

●      Reduced information processing capability (e.g., signal detection, visual search)

●      Impaired perception

.10%

About 5 alcoholic drinks**

●      Clear deterioration of reaction time and control

●      Slurred speech, poor coordination, and slowed thinking

●      Reduced ability to maintain lane position and brake appropriately
.15%

About 7 alcoholic drinks**

●      Far less muscle control than normal

●      Vomiting may occur (unless this level is reached slowly or a person has developed a tolerance

●      for alcohol)

●      Major loss of balance
How Long Does it Take for Alcohol to Leave Your System?
How long it takes for your body to process alcohol is dependant on your age, weight, high, gender and a whole host of other factors. A simple rule to remember is that if you were to consume seven pints of lager or six glasses of wine in the evening at 7 pm for dinner, then you need at least 16 hours of hydration and no alcohol in order to be considered sober enough to drive.
The debilitating effects of alcohol on your ability to drive are so massive that you should be waiting around 3 to 4 hours after consuming a single small glass of wine with a meal before you even consider driving.
What Happens If I Get Caught Drinking And Driving?
The specific laws and penalties for driving under the influence (DUI) vary substantially from state to state, however, 42 states, the District of Columbia, the Northern Mariana Islands and the Virgin Islands have administrative license suspension (ALS) on the first offense.
ALS allows law enforcement to confiscate a driver's license for a period of time if he fails a chemical test. Most of these states allow limited driving privileges (such as to/from work).
All states have some type of ignition interlock law, in which judges require all or some convicted drunk drivers to install interlocks in their cars to analyze their breath and disable the engine if alcohol is detected. 20 states (and 4 California counties) have made ignition interlocks mandatory or highly incentivized for all convicted drunk drivers, even first-time offenders.
Depending on the nature of the offense, drunk drivers can face large fines, a ban on driving that might last up to a lifetime, permanent confiscation of their vehicle, and potential a long prison sentence if they endangered or harmed others through their actions.
Expert Training
The Northwest Driving School and Traffic School provides the Las Vegas community with live driving and traffic classes taught by seasoned instructors. All of our driving instructors have passed background checks, each automobile is DMV safety-approved and every member of the Northwest family is committed to providing excellent drivers ed and behind the wheel instruction.
At Northwest, you can expect to find outstanding classes, both on campus and behind the wheel, that are engaging, fact-filled, entertaining and geared toward success. We make no bones about it, we believe that Northwest provides the best driving lessons in Las Vegas, no matter your age or background. We are proud of the fact that 98% of our students pass their test on the first try. Call us at (702) 403-1592 to start your driving adventure with one of our expert instructors.
Written by:
Rich Heinrich
Master Instructor, Emeritus