The Self-driving Car of the Future Is Already Here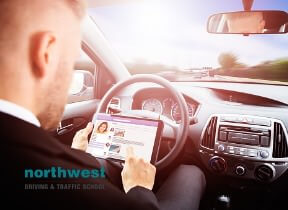 According to a recent Bloomberg report, self-driving car maker Waymo is planning to roll out a large scale driverless car-hailing service within the next year. The company will debut a commercial, self-driving car service that some have likened to ride-hailing companies Uber and Lyft.
Waymo is a self-driving technology development company. It is a subsidiary of Alphabet Inc. Waymo originated as a project of Google before it became a stand-alone subsidiary in December 2016.
In April 2017, Waymo started a limited trial of a self-driving taxi service in Phoenix, Arizona. On December 5, 2018, the service launched its first commercial self-driving car service called "Waymo One", where users in the Phoenix metropolitan area can use an app to request the service.
The small trial run consisted of around 100 of authorized riders in the suburbs around Phoenix, covering about 100 square miles, according to the Bloomberg report.
Are We Ready for Self-driving Cars to Hit the Road?
A recent survey asked 3,325 people across the U.S., UK, and Canada about their experiences with and expectations of autonomous vehicles and here is what they had to say.
Despite much of the excitement around them, most people have not ridden in a self-driving car and. Autonomous vehicles remain a highly emerging technology and over 88% of respondents intimated that they had not yet experienced riding in a self-driving car.
However, despite most people not having ever ridden in a driverless car, many of them are curious to try. Nearly 50% of the respondents to the survey indicated that. while they haven't ever been in an autonomous vehicle, they'd like to try riding in one. This suggests that, once these cars do hit the road, the interest in experiencing them could help them go mainstream.
The survey also indicated that that over three-quarters of respondents believed that autonomous vehicles will make up the majority of cars on roads at some point in the future. However, most believe that it might be a while before that happens, with the highest number of respondents saying that they believe it will be a decade or two until self-driving cars take over.
This tallies with comments coming from industry leaders in the self-driving car space. Waymo's own CEO, for instance, has remarked himself that he believes it will be "decades" before self-driving cars comprise the majority of vehicles on the road.
Safety Concerns Still An Issue
Despite widespread enthusiasm among the respondents to the survey, suggesting that they would like to experience riding in a self-driving car, only around 17% were happy to describe autonomous vehicles as "very safe."
Most industry experts agree that while there are still some safety issues to be worked out with self-driving technology, these vehicles are generally safe enough to be on roads.
Safety has been a significant part of Waymo's message throughout its autonomous vehicle-building history. With the company repeatedly emphasizing that "safety is at the core of everything we do."
However, there has already been a backlash against Waymo's Phoenix trial of its driverless technology. Arizona residents have attacked Whymo's self-driving cars with rocks and slashed their tires. Police reports obtained by local media suggest that the Chrysler Pacifica cars run by Waymo have become a target for disgruntled locals, with 21 incidents recorded in the past two years.
One car had its tires slashed while parked and Waymo cars have had rocks thrown at them on five occasions, the Arizona Republic reported. A dark Jeep appears to have targeted the cars on six occasions, swerving abruptly towards them or braking sharply in front of them.
These incident's highlighted the fact that, while people are excited about driverless cars and many are interested in testing the technology, there are still some large roadblocks to be overcome before the general public are entirely comfortable with autonomous vehicles on their roads.
Expert Training
The Northwest Driving School and Traffic School provides the Las Vegas community with live driving and traffic classes taught by seasoned instructors. All of our driving instructors have passed background checks, each automobile is DMV safety-approved and every member of the Northwest family is committed to providing excellent drivers ed and behind the wheel instruction.
At Northwest, you can expect to find outstanding classes, both on campus and behind the wheel, that are engaging, fact-filled, entertaining and geared toward success. We make no bones about it, we believe that Northwest provides the best driving lessons in Las Vegas, no matter your age or background. We are proud of the fact that 98% of our students pass their test on the first try. Call us at (702) 403-1592 to start your driving adventure with one of our expert instructors.
Written by:
Rich Heinrich
Master Instructor, Emeritus