How To Drive With Confidence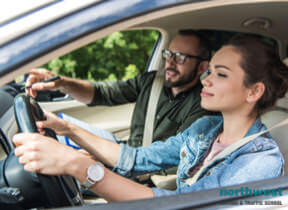 Learning to drive, like learning to do anything, is a process that takes time and effort. Like most things you aren't used to doing, it can be difficult to drive with confidence while you are learning or just after you have passed your test.
While there isn't a surefire way to increase your confidence on the road overnight, here are a few things you can do to increase your experience, and therefore confidence, behind the wheel.
Practice Makes Perfect
The best way to increase your confidence behind the wheel it to take the time and effort to spend more time behind the wheel. The more hours you log-in in the driver's seat, the more it will start to feel like a second home and the more confident you will be.
Find A Mentor
If you are worried about heading out on your own, then bring a friend with you. Having an experienced driver in the car with you can seriously boost your confidence and you get the added benefit of being the beneficiary of their experience and advice.
Drive in All Weather Conditions
One of the things most new drivers are concerned about it driving in adverse weather conditions. The only way to get over that fear is to head out into the wind and rain and learn how to deal with them. Familiarity breeds confidence, so it's best to familiarize yourself with as many different types of driving conditions as possible.
Drive On Different Types Of Terrain
If you only spend time driving around your own neighborhood then that is the only place you are going to feel comfortable. Try and get some experience of driving in a range of terrains, such as hills, dirt roads, country roads, highways, narrow streets, busy streets and parking lots. Take on the types of terrain you find the easier first and work your way up to the stuff that makes you nervous. Once you conquered it all you'll feel confident behind the wheel, regardless of the road surface.
Complete Refresher Driving Courses
Learning how to drive doesn't stop when you get your license. There is always something new to learn and there is always a benefit to practicing your skills. Online refresher courses are a fine way to keep up to date with updates to driving best practices and changes in the law, while hands-on refresher classes are a great way to hone your driving skills and boost your confidence.
Expert Training
Northwest Driving School and Traffic School provides the Las Vegas community with live driving and traffic classes taught by seasoned instructors. All of our driving instructors have passed background checks, each automobile is DMV safety-approved and every member of the Northwest family is committed to providing excellent drivers-ed and behind the wheel instruction.
At Northwest, you can expect to find outstanding classes, both on campus and behind the wheel, that are engaging, fact-filled, entertaining and geared toward success. We make no bones about it, we believe that Northwest provides the best driving lessons in Las Vegas, no matter your age or background. We are proud of the fact that 98% of our students pass their test on the first try. Call us at (702) 403-1592 to start your driving adventure with one of our expert instructors.
Written by:
Rich Heinrich
Master Instructor, Emeritus