Five Top Tips For Your First Driving Lesson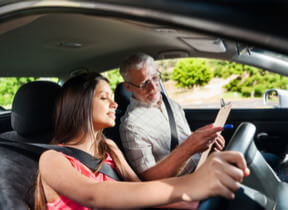 Your first driving lesson can be a nerve-wracking experience, particularly if you've never been in control of a car before. Being a little nervous before your first lesson is perfectly natural and you'll soon get used to the car and in being in control of it. To help make you as comfortable as possible, we've put together these five top tips for your first driving lesson, to help ease you into learning how to drive.
Top Tips
1. Read up on the rules of the road – Before you head out on your first driving lesson, it's a good idea to do your homework and read up on the rules of the road. The Department for Motor Vehicles (DMV) for each state offers a "driver's handbook" which is a excellent place to start learning the rules of the read before you get behind the wheel.
2. Remember your driving permit – Once you turn 15 ½, you are eligible to sit for your driver's permit exam at the DMV.You will need to get your permit in advance of your first behind the wheel lesson and have it with you when you are taking your lessons.
3. Remember your glasses – If you normally wear glasses or contact lenses, then it is vital that you remember to take them with you to all your driving lessons. You will need to see both your dashboard and the road ahead of your clearly.
4. Ask questions – Driving lessons are exactly that, lessons. If you don't understand something, then it is very important that you ask questions to clarify what you are being told. Get comfortable with the idea of asking questions and use them to get the most out of your lessons.
5. Wear suitable shoes –Those brand new flip-flops might be the high of summer fashion, but they are almost certainly not suitable for driving in. When dressing for your first driving lesson, wear comfortable loose clothing and shoes that don't have a particularly thick sole or high heel, as these can prevent you from easily moving the pedals with the balls of your feet.
98% Of Our Students Pass On The First Try
Northwest Driving and Traffic School provides the Las Vegas community with Driver's Ed classes, behind the wheel live driving and traffic classes taught by seasoned instructors. All of our driving instructors have passed background checks, each of our automobiles is DMV safety-approved and every member of the Northwest family is committed to providing excellent drivers ed and behind the wheel instruction.
At Northwest, you can expect to find outstanding classes, both on campus and behind the wheel, that are engaging, fact-filled, entertaining and geared toward success. We make no bones about it, we believe Northwest provides the best driving lessons in Las Vegas, no matter your age or background. We are proud of the fact that 98% of our students pass their DMV drive test on the first try. Call us at (702) 403-1592 to start your driving adventure with one of our expert instructors.
Written by:
Rich Heinrich
Master Instructor, Emeritus