Our Top Five Tips For Driving Alone For The First Time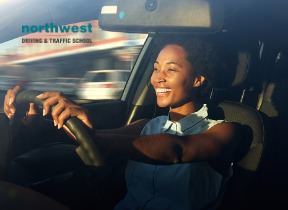 Having passed your driving test, the first thing you'll probably want to do is get out on the open road and enjoy the freedom that having your newly minted driving license brings. That being said, the first trip out on the open road is a big moment and one that can be understandably a little daunting.
To help you get comfortable with the idea of being out on your own, here are our top five tips for driving alone for the first time.
Tell Someone You Are Heading Out
For your first drive, it's better safe than sorry. Before you head out on your own for the first time, let someone else know that you are going out for your first drive. The chances are that you'll just be driving around enjoying your new found freedom, but it's always a good idea for someone else to know approximately where you are going and what time you plan to be back.
Get the Right Seating Position
Before you head out, it is important that you are sitting comfortably. It's not just about making sure your seat is as soft as possible, you'll also need to be able to reach the pedals, see your mirrors and blind spots and have access to the gearshift and wheel without stretching or extending yourself in a way that might be uncomfortable in the long run.
Before pulling out, check the height of your seat, the position of the headrest and adjust your interior and exterior mirrors so you can see them without needing to crane your neck. Experiment on your driveway with the engine off and make sure that you can comfortably reach the pedals in different seating positions.
Invest in Some "P" Plates
You've no doubt been itching to get those L plates taken off, so it might seem strange investing in the vehicular equivalent of a "just married" sign, however, P plates are there for a reason. Even if you passed your test with flying colors, you are going to make a few mistakes in your first days driving.
Having your P plates in places just means that people will go a little more easy on your if and when you do make a mistake. The dent to your pride will be worth it if it saves you a chorus of angrily blaring horns the first time you stall pulling away from a stop light.
Go at the Right Time
Timing is everything when it comes to driving and the last thing you want to do it take your first nervous steps into driving on your own at rush hour, surrounded by angry tired drivers who just want to get home.
On your first solo drive, try to pick an off-peak time and drive around the more secluded parts of your local area. It'll mean your less likely to run into any packed traffic and, let's face it, you'll have plenty of time to find out what a rush hour traffic jam is like in the future.
Don't Dive Straight in at the Deep End
Getting your driving license opens up a whole new range of opportunities for you, but just because they are available doesn't mean you have to try all of them right away. It's important to pace yourself and get some experience under your belt.
You and your friends might be excited about your new car the freedom it represents, but perhaps a 400-mile road trip to California isn't the best idea during your first week of solo driving. Don't let others pressure you into doing something you aren't comfortable with. After all, it is your car and, as the driver, you are responsible for the passengers in it.
Expert Training
The Northwest Driving School and Traffic School provides the Las Vegas community with live driving and traffic classes taught by seasoned instructors. All of our driving instructors have passed background checks, each automobile is DMV safety-approved and every member of the Northwest family is committed to providing excellent drivers ed and behind the wheel instruction.
At Northwest, you can expect to find outstanding classes, both on campus and behind the wheel, that are engaging, fact-filled, entertaining and geared toward success. We make no bones about it, we believe that Northwest provides the best driving lessons in Las Vegas, no matter your age or background. We are proud of the fact that 98% of our students pass their test on the first try. Call us at (702) 403-1592 to start your driving adventure with one of our expert instructors.
Written by:
Rich Heinrich
Master Instructor, Emeritus