Should I Learn to Drive in a Manual or an Automatic Car?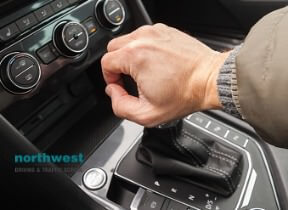 One of the most common questions facing new drivers is whether they should learn to drive in a manual or an automatic car. There are benefits and downsides to both choices, ranging from the speed at which you can learn, the cost of insurance, and what kind of car you'll be able to drive in the future.
To make things as clear as possible, we've put together a short guide to what the pros and cons of learning in an automatic or manual care are, to help you make the right decision for you.
Can I Drive a Manual Car on an Automatic Licence?
Unfortunately, the answer is no. Learning to drive a manual car involves an entirely different set of skills that are not taught to be drivers who only want to learn in an automatic. This means that if you choose to only get an automatic license, you'll only be able to drive automatic cars in the future.
However, if you choose to learn in an manual car, you'll be able to drive an automatic on the same license. This is why only around 20% of new drivers taking lessons in the US choose to only sit for an automatic drivers license, with the rest opt for the more versatile manual license.
Does it Cost More to Ensure an Automatic Car?
On average it costs around 11% more to insure an automatic car. This is because most moderns automatics are more complicated and computer-driven than their manual counterparts, leaving more to go wrong and resulting in more costly repair bills.
In most cases, new drivers looking to ensure an automatic end up paying around $200 more for their insurance than those looking to insure a manual car.
Buying Your First Car
Another benefit to learning in a manual is that it increases your range of options when it comes to buying your first car. Obviously, learning on an automatic means you can only pick an automatic for your first car. Automatics tend to be more expensive and, with the tight budget most first-time car buyers have, being able to pick from a selection of both manual and automatic cars increase the chances of finding one that is in your price range.
Learning in a Manual Takes Longer
One of the major downsides to learning in a manual car is that it does often take longer to master the required skills, such as the use of the clutch and the gearbox. This means you'll be needing more driving lessons and that means a larger price tag.
Before selecting which lessons you want and what car you want to learn in, it is best to sit down and talk with your prospective driving instructor about your budget and what would be best for you. You may find that the convenience of being able to drive both cars and the potential savings on your insurance outweigh the reduced cost of learning in an automatic.
Learning in an automatic, however, might suit those who are looking to learn to drive and get out on the road as quickly as possible.
Other Considerations
When considering what car to learn to drive in, it is important to take into consideration any physical disabilities you might have. Most cars can be fitted with a huge range of devices that make driving comfortable for the differently-abled, however, those with limited mobility normally find it easier to control an automatic car as it removes the need for gear shifting and clutch control.
Expert Training
The Northwest Driving School and Traffic School provides the Las Vegas community with live driving and traffic classes taught by seasoned instructors. All of our driving instructors have passed background checks, each automobile is DMV safety-approved and every member of the Northwest family is committed to providing excellent drivers ed and behind the wheel instruction.
At Northwest, you can expect to find outstanding classes, both on campus and behind the wheel, that are engaging, fact-filled, entertaining and geared toward success. We make no bones about it, we believe that Northwest provides the best driving lessons in Las Vegas, no matter your age or background. We are proud of the fact that 98% of our students pass their test on the first try. Call us at (702) 403-1592 to start your driving adventure with one of our expert instructors.
Written by:
Rich Heinrich
Master Instructor, Emeritus