The Dangers Of Becoming A 'Morning After' Drink Driver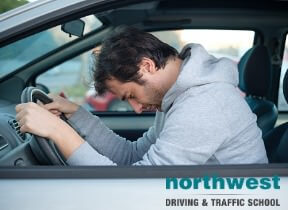 Driving under the influence remains one of the more common causes of car accidents in the U.S. Statistics provided by the Centers for Disease Control and Prevention (CDC) suggest that 29 people in the United States die every day in motor vehicle crashes that involve an alcohol-impaired driver. This averages out to one death every 50 minutes and 28 percent of all traffic-related deaths in the United States.
Younger drivers make up the largest statistical group of fatal accidents, with ages 21 to 24 accounting for 26 percent of all fatalities. Of those, nearly 10 percent were what is know as 'morning after' drink drivers, those who had drunk the night before and were still impaired and over the legal limit the next day.
So what steps can be taken to avoid becoming a 'morning after' drink driver? In this article, we will be providing you with some time frames for alcohol breakdown and some resources to help you enjoy alcohol responsibly and stay safe on the roads.
How Does Alcohol Affect My Driving?
According to the CDC, as little as two alcoholic drinks can affect your ability to drive, resulting in a loss of visual and multi-tasking functions as well as some loss of judgment. The chart below, compiled by the CDC, shows the effect that different levels of alcohol consumption have on your ability to drive.
.02%
About 2 alcoholic drinks** ● Some loss of judgment
● Relaxation
● Slight body warmth
● Altered mood ● Decline in visual functions (rapid tracking of a moving target)
● Decline in ability to perform two tasks at the same time (divided attention)
.05%
About 3 alcoholic drinks** ● Exaggerated behavior
● May have loss of small-muscle control (e.g., focusing your eyes)
● Impaired judgment
● Usually good feeling
● Lowered alertness
● Release of inhibition ● Reduced coordination
● Reduced ability to track moving objects
● Difficulty steering
● Reduced response to emergency driving situations
.08%
About 4 alcoholic drinks** ● Muscle coordination becomes poor (e.g., balance, speech, vision, reaction time, and hearing)
● Harder to detect danger
● Judgment, self-control, reasoning, and memory are impaired ● Concentration
● Short-term memory loss
● Speed control
● Reduced information processing capability (e.g., signal detection, visual search)
● Impaired perception
.10%
About 5 alcoholic drinks** ● Clear deterioration of reaction time and control
● Slurred speech, poor coordination, and slowed thinking ● Reduced ability to maintain lane position and brake appropriately
.15%
About 7 alcoholic drinks** ● Far less muscle control than normal
● Vomiting may occur (unless this level is reached slowly or a person has developed a tolerance
● for alcohol)
● Major loss of balance
How Long After Drinking Is It Safe To Drive?
Alcohol does break down at a predictable rate in the human body, so it is possible to predict how long it will take for the alcohol consumed the night before to pass through your systems. These timeframes are a rough guide and can be changed by factors such as body weight and diet.
Anti drink-driving charities in the U.S. and Europe recommend adding at least one hour to these estimates to account for those factors and to avoid driving the morning after you drink heavily. As you can see from the information below, five pints of average strength larger take 12 and half hours to properly break down in your system.
Wine– If you drink a 250ml glass of 15% wine, it will take 4 hours to leave your body.
Spirits– It will take around 1 and a half hours to break down a 35ml shot, and 3 hours for a 70ml shot (a double).
Beer and lager– Average strength beers and lagers are 4%. Each pint of beer or larger will take 2 and a half hours to leave your bloodstream.
Alcopops– A 275ml bottle of alcopop will take 2 hours to leave your system.
How Can I Find Out If I Am Safe To Drive?
2young2die is a road safety organization specifically aimed at younger drivers. Their 'morning after' calculator allows you to see how long it should take for the alcohol you have consumed to leave your body after a night of drinking.
In order to find out when you are safe to drive, input everything you drank the night before and the calculator will tell you when you'll be safe to drive.
Expert Training
The Northwest Driving School and Traffic School provides the Las Vegas community with live driving and traffic classes taught by seasoned instructors. All of our driving instructors have passed background checks, each automobile is DMV safety-approved and every member of the Northwest family is committed to providing excellent drivers ed and behind the wheel instruction.
At Northwest, you can expect to find outstanding classes, both on campus and behind the wheel, that are engaging, fact-filled, entertaining and geared toward success. We make no bones about it, we believe that Northwest provides the best driving lessons in Las Vegas, no matter your age or background. We are proud of the fact that 98% of our students pass their test on the first try. Call us at (702) 403-1592 to start your driving adventure with one of our expert instructors.
Written by:
Rich Heinrich
Master Instructor, Emeritus