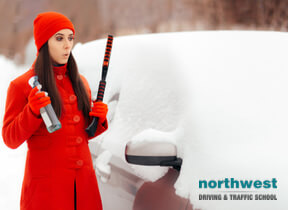 Winter can be a challenging season for a newly qualified driver. You have to match the skills you've only just acquired to the rigors of slippery winter roads and take a lot more care of your car just to make sure you can get it started in the morning.
One of the first things anyone who lives in a colder state learns how to do is de-ice their car. Driving with your windows and mirrors obscured is dangerous and illegal, so in this article, we'll be looking at the best ways to keep them ice-free, even in the harshest winter.
The Night Before
You can prevent ice from sticking to your windscreen by using a pre-icing spray on it the night before. Pre-icing sprays are widely available, inexpensive and work by applying a chemical coating to the glass of your windshield that prevents ice from forming on it.
Use A Car Blanket
If you'd prefer to prevent ice from forming on your car without spending out on pre-icing spray, you just get an old towel or blanket and lay it across your car's windscreen. Remember to ruck the edges into your windscreen wipers. As long as the towel is dry, ice shouldn't form. If your windscreen is wet, wipe it down with a different towel before you tuck it in for the night.
Hand Sanitizer for Frozen Locks
If you find your door locks jammed up with ice in the morning, a quick way to di-ice them is to just cover your keys in hand sanitizing gel. The alcohol content of the hand sanitizing gel will quickly melt the ice in the lock and the hand sanitizer will evaporate, leaving your lock clean and unfrozen.
De-icing Frozen Doors
If you happen to live in a very cold state, you might find that your door handles and seals have frozen over during the night. There are a couple of options for unfreezing them. You can try spraying de-icer on the frozen areas, spread some alcohol-based hand sanitizer around, or, in extreme cases, you can gently pour warm water on your frozen seals. Don't use boiling water as the sudden violent change in temperature can cause glass to crack and damage rubber seal
Check Your Exhaust
If it has been snowing heavily overnight, the first thing you should do in the morning is to make sure that your exhaust pipe is clear of blockages. IA blocked exhaust pipe can make your car very hard to start and you run the risk of dangerous exhaust fumes recycling into your car's interior.
Get the Right Oil for the Season
Buying the right oil is important regardless of what season you're in, but it's an extra-important during a bad winter. Extremely low temperatures cause oil to thicken. The thickened oil will not lubricate your engine until it reaches the right temperature, potentially causing damage to your engine.
Get the Right Screen Wash
During winter don't be tempted to use water to fill up your windscreen washer reservoir. Instead, use a concentrated windscreen wash that's specially formulated for winter. Screenwash that has been specifically formulated for winter stays liquid when temperatures start to drop, rather than freezing in your tank.
Grit Your Parking Space
If you find that you are slipping as you try to pull out of your parking space, try tossing a little clean cat litter onto the area before you pull in the night before. A small bag of cat litter is cheap, easy to store in your car, and is perfect for tossing on ice or slippery surfaces to give your car a little extra grip.
Dehumidify Your Windscreen
Driving with a windscreen that has only partially de-misted is dangerous. As misting is caused by a sudden build-up of moisture within your car, normally caused by your breathing, try investing in a few sachets of dehumidifying chemicals. Silica gel is widely available, inexpensive and even comes free every time you buy a new pair of shoes.
Get the Right Tires
Investing in a set of winter tires make winter driving much safer and easier. Admittedly, they are a little more expensive than standard tires, but the additional grip they provide in the snow and ice could literally be a lifesaver.
Expert Training
The Northwest Driving School and Traffic School provides the Las Vegas community with live driving and traffic classes taught by seasoned instructors. All of our driving instructors have passed background checks, each automobile is DMV safety-approved and every member of the Northwest family is committed to providing excellent drivers ed and behind the wheel instruction.
At Northwest, you can expect to find outstanding classes, both on campus and behind the wheel, that are engaging, fact-filled, entertaining and geared toward success. We make no bones about it, we believe that Northwest provides the best driving lessons in Las Vegas, no matter your age or background. We are proud of the fact that 98% of our students pass their test on the first try. Call us at (702) 403-1592 to start your driving adventure with one of our expert instructors.
Written by:
Rich Heinrich
Master Instructor, Emeritus