The Most Epic Road Trips in Nevada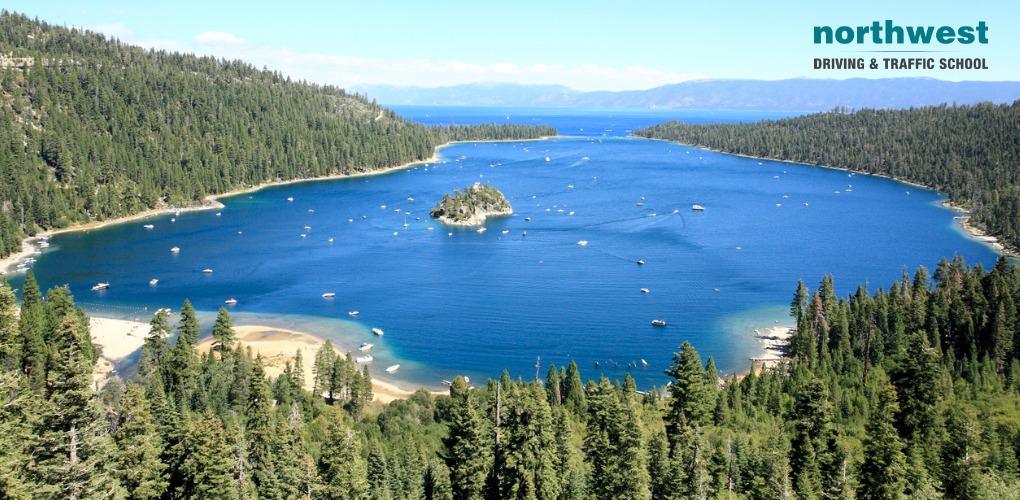 If you recently qualified for you driving license and feel the need to stretch you legs, but don't want to tackle the great American road trip just yet, we've got good news. There are plenty of amazing road trip opportunities right here in Nevada!
Ao, if you've just got that new car and are eager to gather a few friends and go and check out what Nevada has to offer, then here are some routes we think are going to be truly memorable.
The Lake Tahoe Loop
We're starting off with a very manageable distance. The Lake Tahoe Loop is only 142 miles, but boy is there a lot packed into every mile., During the loop, you'll be able to visit Incline Village on the North shore of the titular Lake Tahoe and hang out on the shores of the largest alpine lake in North America.
The water temperature is still very much a polar plunge, we are, after all very close to Diamond Peak Ski Resort, but even if you don't fancy a plunge, the view out on the lake from the dockside is amazing.
You could also stop off on the Stateline between California and Nevada and take a trip on the  Heavenly Mountain Resort Gondola to properly enjoy the panoramic views. If you're feeling really adventurous, you could also spend some time on the M.S. Dixie II, a genuine paddle steamer that runs boat tours up and down the coast.
You can also visit the wild west thrills of Virginia City, which exists over the old Comstock Lode silver mines, and take a drink in The Washoe Club, which is apparently the most haunted bar in all of Nevada.
The Cowboy Corridor
A slight step up from The Lake Tahoe Loop is the  Cowboy Corridor. The Corridor is 396 miles of the great American West that is really going to test your car's air conditioning. One of the first big stops on the corridor is Reno. 
Recent years have seen Reno reimagine itself from a second-class Vegas into Nevada's vibrant "Biggest Little City," full of art, outdoor adventure, and a thriving Basque cuisine scene. If you're out on a road trip with a special someone, you'll want to drop in on Lovelock's Lovers Lock Plaza behind the Pershing County Courthouse. There you can add to the collection of 1,000 locks surrounding a circle of green pillars here, celebrating love in an ancient Chinese custom.
If you're hungry on the trip, then The Martin Hotel in Winnemucca is one of the best historic Basque dinner houses you'll ever have the pleasure to dine in and as is the Paradise Valley Saloon and Bar, a place that could not look more like it was out of an old west film set.
At the end of the corridor is Elko and a chance for you to buy a genuine hand-hewn leather saddle from J.M. Capriola Co. We do not suggest putting it on top of your car and trying to ride home on it.
The Death Drive
Despite the rather morbid name, The Death Drive is actually a celebration of some of the more recognizable sights in Nevada. You're driving through Death Valley, but there are also opportunities to stop in Las Vegas, Pahrump, and the genuine ghost town of Rhyolite.
Between these Nevada staples, you'll be able to cruise through the Desert National Wildlife Refuge, which is the largest national wildlife refuge in the continental United States at a whopping 1.6 million acres and containing six major mountain ranges.
Learn to Drive in Nevada Today!
The Northwest Driving School and Traffic School provides the Las Vegas community with live driving and traffic classes taught by seasoned instructors. All of our driving instructors have passed background checks. Each automobile is DMV safety-approved, and every member of the Northwest family is committed to providing excellent drivers ed and behind the wheel instruction.

At Northwest, you can expect to find outstanding classes, both on campus and behind the wheel, that are engaging, fact-filled, entertaining, and geared toward success. 
We make no bones about it, we believe that Northwest provides the best driving lessons in Las Vegas, no matter your age or background. We are proud of the fact that 98% of our students pass their test on the first try. Call us at (702) 403-1592 to start your driving adventure with one of our expert instructors.
Written by:
Rich Heinrich
Master Instructor, Emeritus