What Are The 5 Most Important Driver Safety Checks?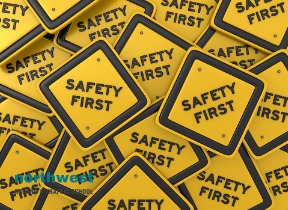 Before setting off on a trip on any length, your first priority should be to ensure that your vehicle is in a fit state to drive and that you are making your safety, and the safety of those around you, your top priority.
To help you make sure your car is in the best possible condition before you hit the road, thereby minimizing the most common causes of accidents or disruptions, here are the five most important safety checks you can make before driving.
Check For Obstructions Around the Car
We've all been in a hurry to get somewhere and have just jumped in the car without taking the time to look around the vehicle and make sure there are no obstructions or hazards that cannot be seen from the driver's position.
Rocks, branches, children's toys, sleeping cats and all matter of other items can gather around you car when it is stationary and cause significant delays and even accidents when you hit them. If you haven't taken the proper precautions, you may also be liable for damages caused by debris kicked up by your car.
Before you drive, take a few seconds to walk around your vehicle and check that all loose debris and potential hazards have been removed.
Check Your Tire Condition
Your tires and their condition are one of the parts of your car that you are most likely to forget about. However, driving with underinflated tires is not only going to increase the amount of gas you use, but it is also dangerous, increasing the chances that you have an accident.
Check your tires regularly for significant wear, punctures, correct inflation or any damage to the tire or rim that might lead to an accident when exposed to the stresses of driving.
Clean Your Windows and Wipers
Visibility is key to avoiding potential accidents, so taking the time to clean your windows and mirrors is a no-brainer. Before you get in the vehicle, clean away any ice, that might have formed in the colder months and any debris that might have fallen leaves or twigs.
If your mirrors are dirty, and your car does not have a mirror cleaning jet, use a small amount of wiper fluid and a soft cloth to clean them. Make sure you top up your wiper fluid tank on a regular basis.
When you get in the car, use your wipers and wiper fluid to clean away any dirt that might have collected since the last time you used the vehicle.
Check Your Fluids
Oil and wiper fluid does diminish as you use your vehicle. Some modern cars have indicators that allow you to monitor your fluid levels from inside the car. But, if you have an older model, you'll need to do this by hand.
Always keep extra oil and wiper fluid reserves in the car with you and, on a regular basis top off both your fluid tanks. Running out of wiper fluid can make it difficult to clean your windows, reducing your on-road visibility, while running out of oil can cause significant damage to your engine.
Check Your Brakes
As you pull away from your parking space, test your brakes by pumping the pedal a few times to check if they are working properly. Obviously, the last thing you want when you are driving is you brakes to malfunction. Taking a few seconds to test them at low speed as you pull away reduces your chances of getting in a nasty accident later.
If your brakes don't seem to have their usual stopping power, check your brake fluid levels. If that doesn't solve the problem, you'll need to take the vehicle in for repairs immediately.
Expert Training
The Northwest Driving School and Traffic School provides the Las Vegas community with live driving and traffic classes taught by seasoned instructors. All of our driving instructors have passed background checks, each automobile is DMV safety-approved and every member of the Northwest family is committed to providing excellent drivers ed and behind the wheel instruction.
At Northwest, you can expect to find outstanding classes, both on campus and behind the wheel, that are engaging, fact-filled, entertaining and geared toward success. We make no bones about it, we believe that Northwest provides the best driving lessons in Las Vegas, no matter your age or background. We are proud of the fact that 98% of our students pass their test on the first try. Call us at (702) 403-1592 to start your driving adventure with one of our expert instructors.
Written by:
Rich Heinrich,
Master Instructor, Emeritus