What Are the "Fatal Four"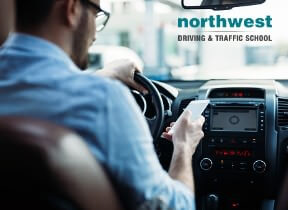 According to the World Health Organisation (WHO), injuries from road traffic accidents are the leading cause of death, worldwide, amongst people aged between 15 and 29 years. In 2017, there were 37,133 fatal vehicle accidents in the US, with the four biggest dangers whilst driving are identified as the so-called "Fatal Four."
In this article, we will be looking at what the Fatal Four are and how you can avoid them.
Inappropriate Speed
The difference of a few miles per hour can be the difference between life and death. A person hit by a car traveling at 30 Mph is 40% more likely to survive than a person who is hit by a car travelling at 40 Mph. The posted speed limit on any road is not a target. You should always drive at a speed suited to the weather conditions, road surface, and type of the road.
For example, when driving in fog or rain, the posted speed limit is often too fast and does not give you enough time to react in low visibility conditions or on a slippery road surface. Make sure you drive at a safe speed at all times, taking into account the conditions and traffic around you, and never exceed the speed limit.
Using a Mobile Phone While Driving
Using a mobile phone when driving can be very dangerous, it can take just a moment's distraction by a call or text to cause a crash. The change in reaction times caused by using a mobile phone is similar to those of a drunk driver.
The National Transportation Safety Board (NTSB) has been calling for a complete ban on talking and texting while driving, even with hands-free devices. While no states currently have a complete ban on cell phones while driving, there are bans in some states for drivers who operate certain kinds of vehicles, as well as for beginning drivers.
If you are between 16 and 20 years old and planning a road trip it is best to check how using a mobile phone while driving interacts with the driving laws of the state you are heading too. In some places, you can be charged even for talking on a hands-free phone behind the wheel.
Not Wearing a Seatbelt
You are twice as likely to die in a crash if you don't wear a seatbelt. Young drivers, aged between 17-34, have the lowest seatbelt-wearing rates combined with the highest accident rate.
The wearing of seat belts is compulsory for drivers and front-seat passengers in the District of Columbia and all states except New Hampshire, where only those under 18 are required to belt up. Seat belt laws usually apply to children in any seat and in some states, adult passengers in rear seats must also wear them.
However, in 38 states, you cannot be stopped for not wearing a seat belt; a police officer must find some other reason for stopping you and can then fine you for being 'unbuckled'
It has been estimated that seat belts would prevent some 75 percent of deaths and 90 percent of injuries caused to people involved in accidents who weren't wearing seat belts
Drink Driving
According to anti-drink driving charity Drink Aware, the brain functions, such as depth perception and hand-eye coordination, that we depend on to drive safely are severely adversely affected when we drink alcohol.
When you drink, it takes longer for your brain to receive messages from your eyes, and processing any information becomes more difficult. All of this can significantly impact your driving. It's better to be safe than sorry, so you should avoid drinking and drugs entirely if you know you have to drive.
Expert Training
The Northwest Driving School and Traffic School provides the Las Vegas community with live driving and traffic classes taught by seasoned instructors. All of our driving instructors have passed background checks, each automobile is DMV safety-approved and every member of the Northwest family is committed to providing excellent drivers ed and behind the wheel instruction.
At Northwest, you can expect to find outstanding classes, both on campus and behind the wheel, that are engaging, fact-filled, entertaining and geared toward success. We make no bones about it, we believe that Northwest provides the best driving lessons in Las Vegas, no matter your age or background. We are proud of the fact that 98% of our students pass their test on the first try. Call us at (702) 403-1592 to start your driving adventure with one of our expert instructors.
Written by:
Rich Heinrich
Master Instructor, Emeritus