Tips for Driving on Rural Roads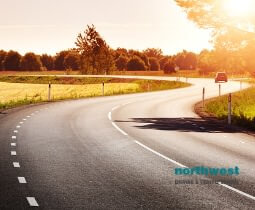 Each year, rural roads account for around three-quarters of all fatal road collisions. There are many reasons why driving on these sorts of roads can be so hazardous. Tight roadways, blind turns, hedgerows that block your line of sight, and agricultural traffic can all constitute a danger to motorists if not taken into consideration.
In this post, we will be looking at steps you can take to make yourself safer when driving on rural roads.
Speed limits
The speed limit for rural roads varies from state to state, but as a general rule, these speed limits tend to be around 45 mph (72 km/h). It's fine to drive to this speed limit if you know it is safe to do so. When considering your speed on rural roads, the golden rule should always be that you must always be able to stop in the distance you can see to be clear ahead.
On narrow roads or roads where there is significantly decreased visibility because of the surroundings or weather, you should be able to stop in half the distance you can see to be clear ahead. This is because if you meet another vehicle coming the other way, both vehicles will both need road space to stop safely.
Remember, you should always be adjusting your speed to fit the road and weather conditions.
Farm vehicles
One of the unique hazards of driving in a rural setting is the presence of agricultural vehicles. Tractors, trailers, all-terrain vehicles, combine harvesters, and other pieces of agricultural machinery can all represent a significant road hazard. Agricultural vehicles can be long and wide, so build that into your pre-overtaking plan. They also tend to move slowly, so you'll have to exercise patience. Tailgating them while you are looking for a chance to overtake is a recipe for disaster.
Animals
When driving in rural areas, you should expect to see dogs, horses, sheep, cows, and other farmyard animals. They might be on the road because they're being herded somewhere, or they might have escaped, making their behavior entirely unpredictable.
You should also expect to encounter wild animals and these can represent a hazard. A deer, for example, is a surprisingly heavy animal and could cause significant damage to the front of your car or your windscreen, following a high-speed impact. If you see warning signs for animals, take them seriously.
Cyclists and Pedestrians
The country-side attracts cyclists, ramblers, and families out for a stroll and you should expect to see all of the above on country lanes. Get into the habit of expecting to see someone on foot as you approach every bend or brow of a hill. Be mindful of cars that are pulled off to the side of the road to allow people to sightsee or picnic.
Caravans
Holidaymakers like the country and it's easy to understand why. There's nothing quite like the views and the space of the open countryside. This does mean most people aren't going to be in any kind hurry and you should be ready to follow a car towing a caravan at slow speeds for long periods of time.
Motorcyclists
Most recreational bikers love the countryside, talk to any motorcyclist and they will happily recount stories of their favorite road, which is almost always a rural route somewhere, with challenging bends and great views. This means you are more than likely to come across recreational bikers on the tight confines of a rural road and you be aware of how to react to them.
If there's a motorcyclist behind you, don't deliberately try to obstruct them if you know the rider wants to come past. If the rider is out in the middle of the road one moment, then tucked back towards the curb a moment later, don't worry. Motorcyclists are taught to position themselves to get the best forward view.
Lastly, if you do see a motorcyclist approaching you, by checking either in front or in your mirror, expect them to have companions, as recreational bikers tend to ride together.
Expert Training
The Northwest Driving School and Traffic School provides the Las Vegas community with live driving and traffic classes taught by seasoned instructors. All of our driving instructors have passed background checks, each automobile is DMV safety-approved and every member of the Northwest family is committed to providing excellent drivers ed and behind the wheel instruction.
At Northwest, you can expect to find outstanding classes, both on campus and behind the wheel, that are engaging, fact-filled, entertaining and geared toward success. We make no bones about it, we believe that Northwest provides the best driving lessons in Las Vegas, no matter your age or background. We are proud of the fact that 98% of our students pass their test on the first try. Call us at (702) 403-1592 to start your driving adventure with one of our expert instructors.
Written by:
Rich Heinrich
Master Instructor, Emeritus