Where Are the Toughest Places to Drive in the World?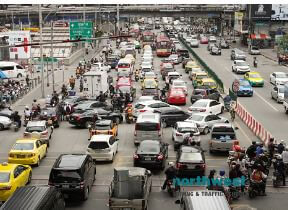 If you think your local highway or roundabout is difficult to safely traverse you may be underestimating just how safe the roads in the US are. To put your driving experience into context, here are some of the most difficult and dangerous places to drive in the world.
Thailand
Many tourists head over to Thailand for its beautiful scenery, laid back atmosphere, and resorts. Driving in Thailand, however, is hardly what anyone could call laid back.
Alongside its beaches and sun, Thailand is equally famous for its nocturnal truckers and swarms of motorbikes. Thai truckers prefer to drive at night and have gained a reputation for somewhat rowdy driving, so its best to avoid driving at night if you can.
You can also expect huge numbers of motorbikes on the road, as they are a very popular mode of transport, and they will weave in and out of traffic with little or no warning, so keep your eyes peeled.
Russia
Russia has a bone-crunching 198,000 road traffic accidents per year, because of a combination of poor road safety and the generally challenging road conditions and icy weather.
If you do happen to be driving in Russia, you'll need a car that is equipped for driving in snowy and icy conditions and have a good handle on what to do if you start skidding out of control on patches of ice.
Russian police officers conduct frequent traffic spot checks, so be ready with your documentation if you get pulled over. They can also issue spot fines at all times and have a reputation for being humorless, especially with tourists, so it's probably best to keep you jokes for your local open-mic night.
South Africa
The road conditions themselves in South Africa aren't particularly challenging, but the country does suffer from a high level of crime on its roads. The best way to avoid becoming a victim of crime is to takes steps to make sure you don't present a tempting target.
Lock your doors and have your windows rolled up to avoid getting car-jacked. Keeping the car's air-con on will keep you cooler in hot weather anyway. Don't leave valuables lying around, and if you are stowing them away in the boot try not to be obvious about it.
Ecuador
Ecuador is a beautiful country and an increasingly popular travel destination, but it does have some of the worst roads in the world.
The road quality, especially in rural or mountainous areas, is so poor that it can be hard to tell which section of mud is actually meant to represent a road. Off-roading is common and sometimes it's not clear what part of the road is actually meant to be driven on.
Some of the mountain roads feature terrifying drops, rockfalls, mudslides, and yet local drivers can and might overtake you in the middle of a single-lane road if they feel they need to.
Expert Training
The Northwest Driving School and Traffic School provide the Las Vegas community with live driving and traffic classes taught by seasoned instructors. All of our driving instructors have passed background checks, each automobile is DMV safety-approved and every member of the Northwest family is committed to providing excellent drivers ed and behind the wheel instruction.
At Northwest, you can expect to find outstanding classes, both on campus and behind the wheel, that are engaging, fact-filled, entertaining and geared toward success. We make no bones about it, we believe that Northwest provides the best driving lessons in Las Vegas, no matter your age or background. We are proud of the fact that 98% of our students pass their test on the first try. Call us at (702) 403-1592 to start your driving adventure with one of our expert instructors.
Written by:
Rich Heinrich
Master Instructor, Emeritus