Why Should I Learn to Drive?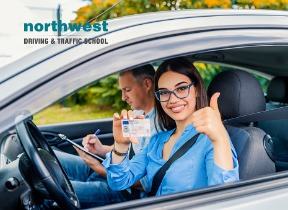 The number of young people learning to drive in the US in on the decline, with many choosing to wait until later life to learn how to drive or choosing to take their test at all. In 2017 only 30% of 17-20-year-olds held a driving license and 67% of 21-29 years olds. Compared to 44% of 17-20-year-olds and 74% of 21-29-year-olds back in 1997.
While there are some obvious reasons for not learning to drive, such as cost, availability of instructors, quality of public transport, and certain anti-congestion laws making city driving less accessible, driving comes with a host of benefits that can more than make up for a little extra efforting in getting your license. So, in this article, we'll be looking at the benefits of learning to drive.
Reduced Reliance on Public Transport
While the public transport network in the US has greatly improved in the past 20 years, there are certain places were relying on public transport just isn't feasible. If you happen to live in a very rural area, there is a good chance that public transport options are few and far between.
Having a car at your disposal means you have more control over your movements. When you can drive yourself to a destination your arrival time is in your own hands. It also means you can get where you need to be much quicker, without needing to catch three different busses and a train to get there.
Greater Job Opportunities
Bring more mobile means you are more likely to secure the job you want. You might find you have to travel to get to work, and getting there by car is always going to be quicker and easier than going by public transport, especially if you work during odd hours, like nights.
You are also in a better position to get to an interview looking your best. After all, no-one looks good after spending an hour crammed in with a hundred other sweaty commuters on the C-train.
More Storage and Transport Options
Some things just should be on a bus. Having a car means you can move furniture, fragile electronics, wide-screen TVs, children's strollers, and other bulky or easily damaged items without worrying about getting pushed into by other commuters.
That extra boot space also makes going on holiday that much easier. Not only can you just jump in the car and go somewhere relaxing, but the car does all the carrying of the luggage, so you don't have to!
Expert Training
The Northwest Driving School and Traffic School provides the Las Vegas community with live driving and traffic classes taught by seasoned instructors. All of our driving instructors have passed background checks, each automobile is DMV safety-approved and every member of the Northwest family is committed to providing excellent drivers ed and behind the wheel instruction.

At Northwest, you can expect to find outstanding classes, both on campus and behind the wheel, that are engaging, fact-filled, entertaining and geared toward success. We make no bones about it, we believe that Northwest provides the best driving lessons in Las Vegas, no matter your age or background. We are proud of the fact that 98% of our students pass their test on the first try. Call us at (702) 403-1592 to start your driving adventure with one of our expert instructors.
Written by:
Rich Heinrich
Master Instructor, Emeritus