5 Easy Ways to Calm Your Driving Test Nerves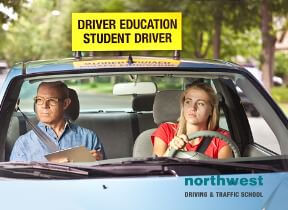 The day of your driving test is probably one of those times when your nerves are going to affect you more than usual. Part of taking a successful test and getting your license is demonstrating that you can overcome anxiety and stay focussed and in control.
To help you do that, here are five easy ways to calm your driving test nerves.
Practice Makes Perfect
Everyone has one facet of driving that they are not confident about, and it's human nature to avoid doing things we aren't good at. Unfortunately, the driving test-giver is going to ask you to perform certain maneuvers, regardless of how you feel about them.
If there is a particular maneuver you are unsure about, use the time leading up to your test to work with your instructor to perfect it. You can also head out with a family member or other experienced driver to practice in your free time.
A Good Breakfast
There are many foods that can help to reduce anxiety. For example, Almonds contain the nutrient Zinc, which can help to keep your moods balanced. When you wake up on the day of your test, your nerves might make you feel like skipping breakfast, try to overcome that urge.
Instead, have a breakfast rich in antioxidants, which are said to be extremely helpful for relieving stress. Try to avoid caffeine, as this tends to increase anxiety levels.
Sitting in Silence
During you lessons, you have probably gotten used to your driving instructor talking to you. A driving test can be quite different, as you test-giver has to remain vigilant. Don't worry if you spend a long period of time during your test sat in silence, this is totally normal and isn't a comment on your driving.
Getting Over Faults
The test invigilator is there to decide if any of your actions constitute a fault, not you. Even if you feel you have made a mistake on the day, put it out of your mind and concentrate on the rest of your test.
Very few people pass their test without at least one minor fault, so don't let a small mistake put you off so much that you end up making a larger one.
Tell People After You've Passed
Stress tends to multiply exponentially compared to the number of people experiencing it. If you want to keep your stress to a minimum, the let the minimum number of people know that you are taking your test. The last thing you need on test day is the added weight of expectation.
Expert Training
The Northwest Driving School and Traffic School provide the Las Vegas community with live driving and traffic classes taught by seasoned instructors. All of our driving instructors have passed background checks, each automobile is DMV safety-approved and every member of the Northwest family is committed to providing excellent drivers ed and behind the wheel instruction.

At Northwest, you can expect to find outstanding classes, both on campus and behind the wheel, that are engaging, fact-filled, entertaining and geared toward success. We make no bones about it, we believe that Northwest provides the best driving lessons in Las Vegas, no matter your age or background. We are proud of the fact that 98% of our students pass their test on the first try. Call us at (702) 403-1592 to start your driving adventure with one of our expert instructors.
Written by:
Rich Heinrich
Master Instructor, Emeritus