5 Driving Tips to Help You Pass the First Time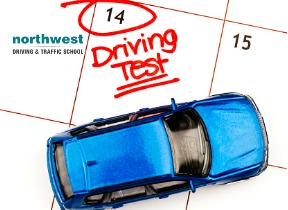 It is entirely normal to be nervous when you turn up for your test, but the best way to combat those nerves is to be as prepared as possible. With that in mind, here are our top five driving tips that could very well help you pass your driving test on your first attempt.
Turn up on Time
Much like any test, there's nothing that is going to throw you off your game more than turning up late and flustered.
Geeting there in good time is the best way to make sure you start your test off on the right foot. If you are going to test center you've not bee to before, make sure to plan out your route, so you don't run the risk of getting lost and arriving late and flustered.
Try to arrive at your test center 10-20 minutes beforehand. This will ensure you have long enough to prepare, but won't be left waiting around too long.
Have a Lesson Just Before Your Test
If possible we recommend trying to fit in a driving lesson on the day of your test. This means you can go over any maneuvers that you are concerned about and get some last-minute guidance and clarification from your driving instructor.
Taking a lesson just before your test can help calm your nerves and put you in the right frame of mind to pass. This is especially true if you have been taking two-hour driving lessons in the period building up to your test, which is something we also recommend.
Use Your Instructor's Car
Not only can you be sure that your instructor car is exactly up to the standards required by the person administering your driving test, but you also have a significant advantage when it comes to pointing out the various controls you might be asked to identify.
More than that, using the car you learned to drive in can help settle any last-minute nerves and help you get into the proper mood for driving.
Make Sure You Have Everything You Need
It might surprise you to learn that thousands of tests every year are failed because the leaner driver turns up to the test without the required documentation on them.
Always double-check that you have all the required documents with you and, if you are taking the test in your own car that your car is properly equipped and up to the test standard.
Ask Your Examiner to Repeat the Instruction
Remember, it is perfectly reasonable for you to ask your driving instructor to repeat any instructions given. The professionals who take new drivers through their driving tests are used to people being nervous and are there to render what assistance they can, not cause you to fail.
If you don't hear an instruction clearly during you test, stay calm and just ask the examiner to repeat it. If you panick and just try to do what you think they might be asking you might lose focus and slip up.
Expert Training
The Northwest Driving School and Traffic School provides the Las Vegas community with live driving and traffic classes taught by seasoned instructors. All of our driving instructors have passed background checks, each automobile is DMV safety-approved and every member of the Northwest family is committed to providing excellent drivers ed and behind the wheel instruction.
At Northwest, you can expect to find outstanding classes, both on campus and behind the wheel, that are engaging, fact-filled, entertaining and geared toward success. We make no bones about it, we believe that Northwest provides the best driving lessons in Las Vegas, no matter your age or background. We are proud of the fact that 98% of our students pass their test on the first try. Call us at (702) 403-1592 to start your driving adventure with one of our expert instructors.
Written by:
Rich Heinrich
Master Instructor, Emeritus