Four Signs That the Driver Next to You Is Distracted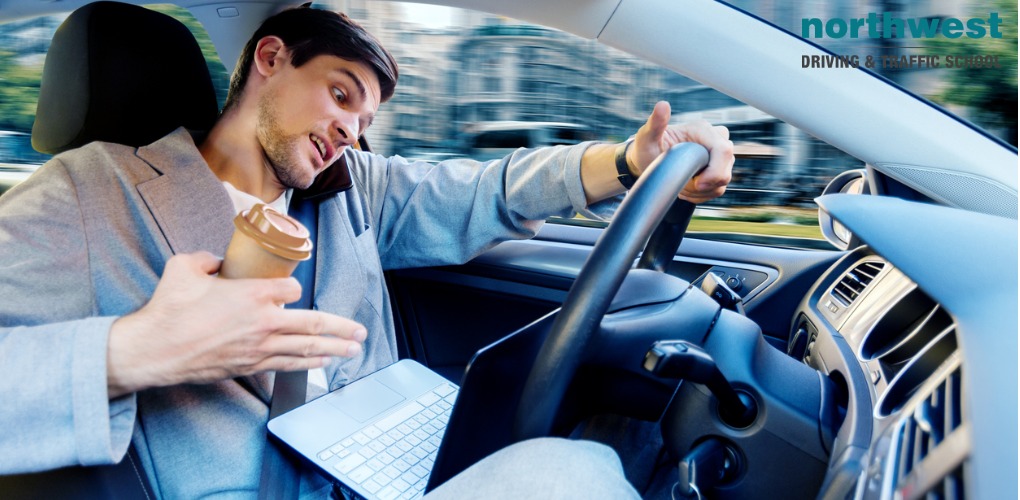 According to the National Safety Council: 
"On a typical day, more than 700 people are injured in distracted driving crashes. Talking on a cell phone – even hands-free – or texting or programming an in-vehicle infotainment system diverts your attention away from driving."
Distracted driving ranks right up there with speeding and drunk driving as one of the primary causes of accidents and knowing when another driver is distracted can help prevent you becoming involved in an accident.
To help out, we'll be laying out the four primary signs that a driver is distracted.
The Glow of a Mobile Phone
If you're driving at night and you can see another driver whose face is clearly underlit from below with a suspiciously familiar blue light, then there is a good chance that they have their mobile phone in their lap.
If it's day time, pay attention to their posture. Looking down into their lap frequently is a good sign that they are texting instead of paying attention to the road.
Chewing
Eating while driving isn't illegal, but it is as distracting as looking at your phone, fiddling with something on your dash, or doing anything that takes your attention away from the road. 
It only takes a split second for someone to rush out into the road, or for a car to stop suddenly and if another driver is busy stuffing a sandwich in their face, they might not notice in time. 
Personal Interactions
Arguing with a spouse, chatting with friends, chastising a child or trying to find something they've dropped. All of these are common interactions in cars and all of them are a potentially dangerous distraction.
If you notice another driver visibly arguing with someone or taking their eyes off the road and hands off the wheel to turn around and address passengers, keep your distance from them. 
Bent Over Posture
Another driver suddenly disappearing from view as they adjust their chair, try to light a cigarette, search for something in their center console, or adjust the settings on their touchscreen is a huge red flag.
You don't need to know what they are doing, all you need to know is that they won't be reacting in a timely manner if anything happens on the road they aren't looking at. 
Learn to Drive in Nevada Today!
The Northwest Driving School and Traffic School provides the Las Vegas community with live driving and traffic classes taught by seasoned instructors. All of our driving instructors have passed background checks.
Each automobile is DMV safety-approved, and every member of the Northwest family is committed to providing excellent driver's education and behind-the-wheel instruction.

At Northwest, you can expect to find outstanding classes, both on campus and behind the wheel, that are engaging, fact-filled, entertaining, and geared toward success. 
We make no bones about it, we believe that Northwest provides the best driving lessons in Las Vegas, no matter your age or background. We are proud of the fact that 98% of our students pass their test on the first try. Call us at (702) 403-1592 to start your driving adventure with one of our expert instructors.
Written by:
Rich Heinrich
Master Instructor / General Manager