How Many Driving Lessons Do I Actually Need?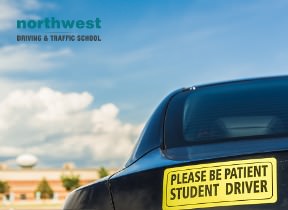 The time between you starting to learn to drive and actually being be to head out in your car on your on is measured in driving lessons, but how many do you actually need? In this article, we will be looking at how many lessons you need and what factors can change that number.
The Average
The DMV recommends that a new drive takes at least 45 hours of lessons with a fully approved driving instructor and 20 hours with friend or family. Meaning you need that between 45-75 hours of practice in a vehicle before you are ready to take your test.
This might seem like a lot, but it is important to bear in mind the responsibility that comes with owning and driving a car. On average, 102 people die every day because of motor vehicle accidents in the US.
How Many Lessons Should I Take Per Week?
Ideally, driving lessons should be split into forty or fifty hours worth of two-hour sessions. Depending on your availability/lifestyle, you might only be able to make one hour per week. This isn't ideal as a one-hour driving lesson basically ends just as the student is getting into the swing of the lesson.
If you are only able to make one hour per week, you should expect to add 20-30% more hours to get to the point where you are able to pass your test.
Factors That Impact The Number Of Lessons
Prior Experience – Some people may get a slight jump-start if they have any driving experience before they start lessons. For instance, some might practice with family or friends to get the basics down. By doing this, you may not have to spend one lesson learning how to put the car in gear.
Intensive Driving Courses – It's also worth pointing out that there are intensive driving courses that take about a week. The number of lessons can vary, but they are often significantly less than the average forty or fifty. You can consider this option if you already have some experience driving and know the basics.
Expert Training
The Northwest Driving School and Traffic School provides the Las Vegas community with live driving and traffic classes taught by seasoned instructors. All of our driving instructors have passed background checks, each automobile is DMV safety-approved and every member of the Northwest family is committed to providing excellent drivers ed and behind the wheel instruction.
At Northwest, you can expect to find outstanding classes, both on campus and behind the wheel, that are engaging, fact-filled, entertaining and geared toward success. We make no bones about it, we believe that Northwest provides the best driving lessons in Las Vegas, no matter your age or background. We are proud of the fact that 98% of our students pass their test on the first try. Call us at (702) 403-1592 to start your driving adventure with one of our expert instructors.
Written by:
Rich Heinrich
Master Instructor, Emeritus