Which Country has the Easiest Driving Test?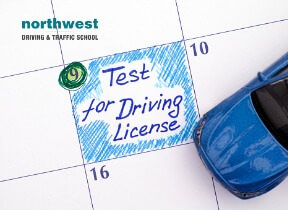 Driving tests in the US are pretty hard and understandably so. If you are going to put someone in charge of a couple of tons of fast-moving metal,  it would be best if they actually knew what they were doing.
But this kind of rigor isn't the norm, in many countries driving test are almost non-existent, requiring little more than a written test or the ability to navigate around a series of cones. In this article, we will be looking at which country has the easiest driving test?
The Hardest Driving Test
Before we look at the easiest test, it's important that we define the hardest driving test. So we have something to compare it too. The most difficult driving test has to go to the tiny European country of Finland, where it takes 3 years to get a full license.
Getting the initial license requires a minimum of 37 hours of driving, a computerized test, and a city traffic test. To get your full license you have to complete a skidpan test and a night driving test and have no infractions on your basic license.
This might seem overly strict, but it is important to remember that Finland is a country of odd natural conditions. They are so close to the arctic that they get 24 hours of direct sun in the winter, where it hovers on the horizon to make it extra hard to see, and then 24 hours of darkness in the winter months.
The ground conditions are also pretty hazardous. Permanent snow covers open grounds about two weeks after winter begins. The snow cover is deepest around mid-March, with an average of 60 to 90 cm of snow in eastern and northern Finland and 20 to 30 cm in southwestern Finland.
The Easiest Driving Test in the World
And the title for the easiest driving test in the world goes to Honduras!  Until recently in Honduras, you used to be able to get a driver's license without taking any kind of test at all.
This has been changed in recent years, but if you were expecting a proper test to be put in place, you are going to be disappointed. There is no practical driving test whatsoever, in order to get your license you only have to take a short written test that takes around an hour!
In a somewhat ironic move, if you want to hire a car in Honduras, you need to have held your foreign license for at least two years.
Also, If you become a resident of Honduras, you have to swap your foreign license for a Honduran one, meaning you might be swapping out that Finland driving license that took you three years to get for one you could have got in less than an hour.
Special Mention: Most Pointless Driving Test
Our special mention for the most pointless driving test goes to Spain for their driving co-ordination test, taken as part of their larger driving test.
To test your coordination you have to steer a car on a screen, but you steer using two levers rather than a steering wheel. The car is steered by you moving the levers backward and forwards.
Understandably, most people can not get to grips with a twin-stick steering method is completely alien to them. In fact, the twin stick system is closer to how modern fighter aircraft are piloted than it is to a car's steering wheel.
The Spanish testing authority overcomes this by not removing this portion of the test, but by just ignoring the fact no one can do it and passing everyone who takes it. Talk about utterly pointless.
Expert Training
The Northwest Driving School and Traffic School provides the Las Vegas community with live driving and traffic classes taught by seasoned instructors. All of our driving instructors have passed background checks, each automobile is DMV safety-approved and every member of the Northwest family is committed to providing excellent drivers ed and behind the wheel instruction.
At Northwest, you can expect to find outstanding classes, both on campus and behind the wheel, that are engaging, fact-filled, entertaining and geared toward success. We make no bones about it, we believe that Northwest provides the best driving lessons in Las Vegas, no matter your age or background. We are proud of the fact that 98% of our students pass their test on the first try. Call us at (702) 403-1592 to start your driving adventure with one of our expert instructors.
Written by:
Rich Heinrich
Master Instructor, Emeritus