Top 10 Reasons for Failing A Driving Test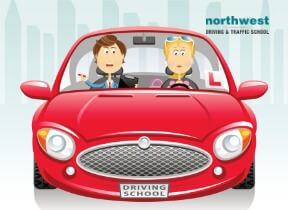 Driving tests are necessarily difficult. After all, getting your driving license means you're in charge of a heavy chunk of metal that you can accelerate to high speeds. But before you start freaking out about how hard your test is going to be, remember, you are not the first person to take one.
There is a long line of other people in front of you who have either passed or failed and you can learn, and therefore avoid, the mistakes they have made. In this article, we will be looking at the most common reasons for people failing their driving test and how you can avoid making those same errors.
Observation at Junctions
The number one's reason that people fail their driving test is insufficient observation at junctions. The correct level of observation is key if you are emerging or turning onto a new road and you want to stay safe.
Remember, you need to give priority to other vehicles where necessary and should not cause another vehicle to change speed or direction, and always pay attention to the stop signs.
Reverse Parking
Reverse parking is tricky, which is why it is the second most common reason for people failing their driving test. Proper use of your mirrors is key in this situation. Remember to use your mirrors well before changing speed and or direction and to act on what you see in them.
If you are changing lanes, it is vital that you are checking both the interior and the relevant door mirrors.
Moving Away Safely
Stalling your car when pulling away is not an automatic failure, as long as you can demonstrate that you are still in control of your vehicle. However, failing to move off under full control, not checking mirrors and any blind spots, or causing another vehicle to change speed or direction will mean you fail your test.
Incorrect Use of Signals
Failing to signal correctly ranks high on the common reasons people fail their driving test. Remember, you need to apply your signal in good time, it should give a clear indication of your intent, and you need to turn the signal off when you have completed the advertised maneuver.
Incorrect Road Positioning
It is imperative that you maintain the correct road position during your test. Try to get into the correct lane early where possible and always be on the lookout for road signs and markings.
Reversing Around a Corner
In a similar manner to reverse parking, good observation is key to not failing on this maneuver. As with reverse parking, remember to use both your interior and wing mirrors well before changing speed and or direction and to act on what you see in them. Accuracy is important, so you must stay reasonably close to the curb on this exercise without hitting it or going too wide.
Lack of Steering Control
You need to demonstrate that you have full steering control at all times or risk failing your test. Evidence that you did not steer at the correct time for the speed you are driving at or to maintain control and road position can result in you getting a major fault.
Select the correct gear before turning and remember, the tighter the turn, the slower the speed.
Turn in the Road
Turing in the road, most commonly a three-point-turn requires a combination of good steering control and good all-round observation. You should steer and accelerate smoothly and always be checking your mirrors, including the rearview check while reversing which is the one that is most often missed.
Inappropriate Speed
It might surprise you to learn that people still fail their driving tests for inappropriate speed, but it's far more common to find people failing for driving too slow, instead of too fast.
You should drive at a speed suitable for each road and not unnecessarily hold up traffic. Driving too slow is just as likely to marked as a driving fault and driving much slower than necessary is the 10th most common reason for failing the driving test.
Expert Training
The Northwest Driving School and Traffic School provides the Las Vegas community with live driving and traffic classes taught by seasoned instructors. All of our driving instructors have passed background checks, each automobile is DMV safety-approved and every member of the Northwest family is committed to providing excellent drivers ed and behind the wheel instruction.
At Northwest, you can expect to find outstanding classes, both on campus and behind the wheel, that are engaging, fact-filled, entertaining and geared toward success. We make no bones about it, we believe that Northwest provides the best driving lessons in Las Vegas, no matter your age or background. We are proud of the fact that 98% of our students pass their test on the first try. Call us at (702) 403-1592 to start your driving adventure with one of our expert instructors.
Written by:
Rich Heinrich
Master Instructor, Emeritus