How To Keep Your Car Out Of A Ditch This Winter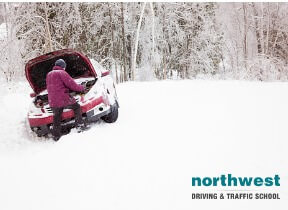 Driving on an icy road in winter is one of the more challenging situations that a driver, especially novice drivers, can face. The last thing you want is to pass your test, get your first car and then end up putting it into a ditch. To keep you safe on the road this winter, here are six top tips for keeping your car out of a ditch in the icy weather.
1. Slow Down
This might seem obvious, but you'd be surprised how many people put getting to where they are going on time before their safety. Keeping your speed low is the number one way to stay safe in icy weather. If you have a four wheel drive vehicle, don't assume that extra traction is enough to keep you safe, the extra weight of the vehicle is just as likely to send your skidding across the ice at high speeds. Keep your speed low, it's better to get where you are going late than to not arrive at all.
2.Accelerate and Brake Smoothly
Ice, rather than snow, is the thing that is most often responsible for sending cars into ditches. Frozen water on the road surface, compacted snow from the tires of other road users, and even a layer of ice hiding underneath recent snowfall, can all result in you skidding off the road if you aren't careful. To give yourself the best chance of staying on the road, accelerate and brake smoothly. This reduces the chance of your wheels spinning or sliding on the ice.
3.Prepare Your Vehicle for Winter
Preparing your car for winter is always a good idea. Putting antifreeze, not water, in your radiator will help to protect your engine. Keeping your car half full of gas will mean you can keep the heater running if you are to stuck in traffic and winter wiper fluid will mean you can see out of your windscreen properly.
4.Keep Your Distance
You should always be observing the minimum safe distance between you and the next vehicle at all time, but in winter, and on icy roads, there's no harm in leaving even more room. The last thing you want is for the car in front to make an emergency stop and you're left with no option but to plow into them or swerve off the road.
5.Have an Emergency Winter Kit
It's best not to get stuck out on the roads in winter, but if you are prepared for it then it doesn't have to get dangerous. Make some space in your trunk for an emergency box that contains a first aid kit, road flares, jumper cables, and a flashlight with batteries. Make sure you have a charged cell phone, a blanket, and something to eat and drink in the car. If it is snowing, it's a good idea to throw a small shovel and some cat litter in the trunk, to help give your wheels traction if you get stuck.
6.Steer Into a Skid
If you do find yourself in the unfortunate position of skidding out of control, the trick is to steer into the skid. If you try to steer out of it, you'll most likely end up spinning your car. To make things clearer, here's an example – if the back end of your car is sliding to your right, you need to steer to the right as well.
Expert Training
The Northwest Driving School and Traffic School provides the Las Vegas community with live driving and traffic classes taught by seasoned instructors. All of our driving instructors have passed background checks, each automobile is DMV safety-approved and every member of the Northwest family is committed to providing excellent drivers ed and behind the wheel instruction.
At Northwest, you can expect to find outstanding classes, both on campus and behind the wheel, that are engaging, fact-filled, entertaining and geared toward success. We make no bones about it, we believe that Northwest provides the best driving lessons in Las Vegas, no matter your age or background. We are proud of the fact that 98% of our students pass their test on the first try. Call us at (702) 403-1592 to start your driving adventure with one of our expert instructors.
Written by:
Rich Heinrich
Master Instructor, Emeritus