How to Keep Windscreen Clean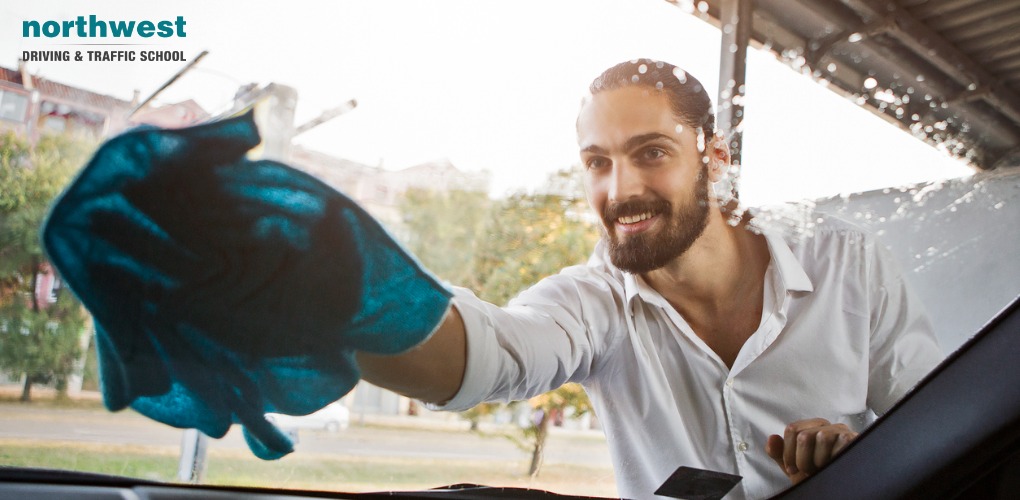 The job of your windscreen isn't just to keep the wind and rain out. Having a clear windscreen is essential for good visibility while driving and therefore essential to your safety.
Additionally, the bonded windscreen is an integral part of the vehicle body. Your windscreen actually contributes significantly to the strength and stiffness of your car's body.
The best way to keep your windscreen in good condition is to clean it regularly, and we're going to show you the best way to do it.
A Step-by-Step Guide to Clearing Your Windscreen
According to the AA, the best procedure for cleaning your windscreen is:
Step 1 – Prepare the windscreen
Carefully lift up your windscreen wipers away from the glass. (On some cars, you'll need to use the "wiper maintenance" mode rather than lifting. Info will be in the handbook.)
If your windscreen's very dirty, wash it first with water and a brush. 
Make sure the windscreen is dry afterward.
Step 2 – Use glass cleaner
Spray half your windscreen with alcohol-based glass cleaner.
Avoid ammonia-based cleaners which can cause damage.
Step 3 – Wipe with a cloth
Use a clean microfibre cloth to wipe your windscreen in long, smooth strokes.
You can wipe from top to bottom and side to side to make sure no spots are missed.
Step 4 – Repeat 
Clean the other half of your windscreen by spraying the other side and cleaning with a cloth.
Step 5 – Clean the wipers 
This is a really important step that's often overlooked.
Give the rubber of the windscreen wipers a good clean with screenwash to remove dirt and debris.
This will make them work much better and could extend their life.
Step 6 – Buff the glass
Buff the glass with a second clean microfibre cloth.
Step 7 – Clean the inside
Repeat the cleaning steps for the inside of your windscreen.
Use clean cloths to avoid smears.
Spray the cleaner onto the cloth instead of the glass to avoid getting it on your dashboard.
You might not see much point in cleaning the inside of your windscreen, but it is worth remembering that chemicals from leathers, plastics, and vinyl inside your car are released in a process called "off-gassing". 
These gases can make the inside of your windscreen greasy and reduce your visibility, and you'll need that visibility to see the road during your driving lessons with Northwest Driving School and Traffic School!
Learn to Drive in Nevada Today!
The Northwest Driving School and Traffic School provides the Las Vegas community with live driving and traffic classes taught by seasoned instructors. All of our driving instructors have passed background checks. 
Each automobile is DMV safety-approved, and every member of the Northwest family is committed to providing excellent driver's education and behind-the-wheel instruction.

At Northwest, you can expect to find outstanding classes, both on campus and behind the wheel, that are engaging, fact-filled, entertaining, and geared toward success. 
We make no bones about it, we believe that Northwest provides the best driving lessons in Las Vegas, no matter your age or background. We are proud of the fact that 98% of our students pass their tests on the first try. Call us at (702) 403-1592 to start your driving adventure with one of our expert instructors.
Written by:
Rich Heinrich
Master Instructor / General Manager